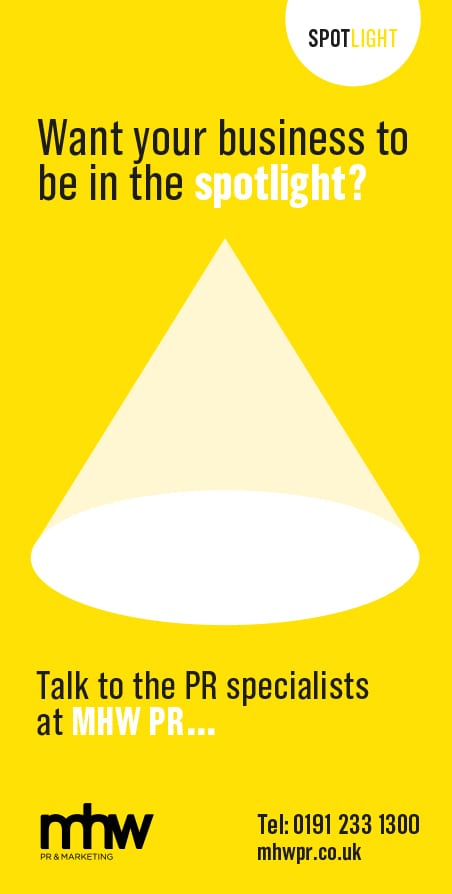 -Did you grow up in the North East or did you decide to relocate here in later life?

I was born in the North East and have lived here all of my life. 100% Geordie!
-What do you think it means to be a business person in the North East of England?

The North East is amazing, there are so many networking events to get involved in. You can meet new people, listen to their story and also share yours. It's very much a sharing community.
-What is your favourite aspect of life in the North East?

First of all, my family are here. Then, I love the atmosphere throughout the region – people are just so kind and friendly. From walking to the corner shop and a stranger saying good morning, to the Stack on a Friday night doing sing-along karaoke, to work activities. People are smiling laughing and simply being kind.
-Where do you like to eat out in the region?

I love tapas, Revs de Cuba in the city centre is my favourite spot for after work networking or for lunch. Amazing food, the best cocktails and the atmosphere is great. I would definitely recommend it if you have never been. I also love a good old county pub, going for a nice walk throughout Northumberland and having Sunday lunch.
-Are the people really friendlier?

I have lived in the region all my life so I may be a bit biased, but I have always found people a lot more welcoming and open than compared to other parts of the UK. Some of the people are so kind that it is inspiring.
-What do you think is the best view in the North East?

The Baltic viewing platform on the edge of the River Tyne has stunning views of the quayside and the city centre. It's especially pretty at night. Alternatively, the beaches and views at Tynemouth are amazing. We are so lucky to have both a busy city centre and the beach on our door steps. A particular favourite view of mine is the architecture in Grey Street, it's such a big part of Newcastle's history.
-Do you think living and working in the North East offers the same opportunities as elsewhere in the UK?

Absolutely. What I like about Newcastle is that there is a mixture of big companies and start-ups, we have a really dynamic landscape in terms of business. Our tech sector is growing at an expediential rate. I feel lucky to be in such a booming sector and the opportunity it brings, such as my role at NBS.
–Have you had any experience of working elsewhere and how did it compare?

I have worked in the North East all my life, I have several close friends who have lived all over the world. Most of them have now returned back to the region to settle down following their adventures.