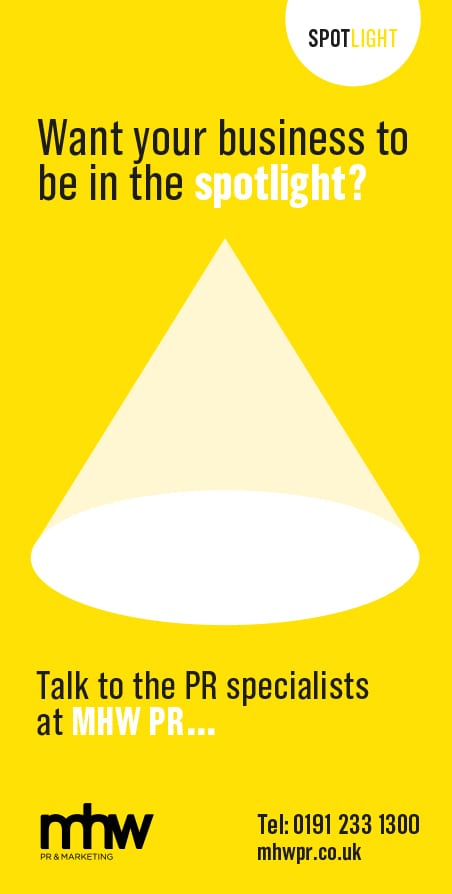 Did you always envisage a career in the industry? Almost. My career started at Northumbrian Water in what we'd now consider an apprenticeship. I spent the first six months in revenue before moving into the PR department and it wasn't long before I and they discovered I was better with words than I was with numbers.

What is your favourite aspect of the job?

My work has taken me into places and introduced me to people I could never have imagined it would at the start of my career. The meetings in Downing Street, beers with a former prime minister, being quizzed on Donald Trump's use of Twitter by the US ambassador to the UK I'm saving it all for my memoirs.

What has been your career defining moment?

It was and remains an immense privilege to be elected and serve as president of North East England Chamber of Commerce.

How do you measure success?

We talked about this in the office just the other day. One of the few things I enjoy about getting older is the sense of perspective that comes with the advancing years. Status symbols and material possessions mean little or nothing to me compared to life experiences and being able to put my head on the pillow at night knowing I've at least tried to do the right thing.

What have been the biggest changes in the industry since you started?

Technology has changed many of the tools of the trade but the fundamentals of delivering effective strategic communications remain the same. Take media relations for example. When I started out I'd find myself stuffing press releases and photographs into envelopes and posting them to journalists. The process has changed almost beyond recognition but the objective remains the same. I attended a dinner a couple of years ago where the guest speaker was Geoff Mulgan, chief executive of NESTA, the global innovation think-tank. I first met Geoff about 15 years ago when he was director of the Government's strategy unit. His after dinner speech was on the subject of smart cities and in the Q&A session that followed he was asked if he was starting out again, what profession would he pursue. I was surprised when he answered PR' but as he explained this above all others is an industry that will always require more natural than artificial intelligence. Technology continues to change our methods but I've seen nothing since to persuade me Geoff was very far off the mark.

How has your skillset developed accordingly?

I'm sure it has I hope it has but in creating and building Fusion I've focused more on bringing the right people with the necessary skills and experience into the team. I'm something of a technophobe but I'm comfortable surrounding myself with people who are far more digitally aware. That diversity is one of the strengths of Fusion's team.

Are you a risk taker by nature or more conservative?

In business I'm definitely risk averse, probably too much so. Prior to establishing Fusion five years ago this month, I'd always worked for big employers and never held any strong desire to run my own business. With the closure of its UK operations I was losing what I always describe as my last proper job' at Rio Tinto. I had opportunities to move abroad but chose instead to take some time out, do some consultancy work for a little while and then look for a new proper job. Five years on, I'm very happy with how things have turned out but I'd never describe myself as entrepreneurial I'm far too risk averse for that.

To what would you attribute your success?

I'm a little uncomfortable with the premise of the question because on a personal level I don't measure success in many of the usual ways. However I can't think of much that I do well that I wouldn't attribute to the people around me. That starts at home where I'm married to the smartest person I know and it extends to the brilliant teams at Fusion and the Chamber and to my wider network of friends and contacts. Chamber chief executive James Ramsbotham is fond of quoting the African proverb If you want to go fast, go alone; if you want to go far, go together.' I like that.

What's your biggest weakness and how have you managed this?

My aversion to risk. I'm not sure I'm actively managing it but through the passage of time I'm gaining confidence in what we're trying to do with Fusion and that's based on having made very many more good decisions than bad ones. I also swear too much and it's neither big nor clever. I'm afraid I'm not managing that at all.

How do you remain motivated?

I like to keep myself busy and involved. My Fusion and Chamber roles take care of that!

Would you prefer to be liked or respected?

Liked. I respect everyone I like but it's not necessarily the case the other way around.

I'll retire when I'm good and ready.