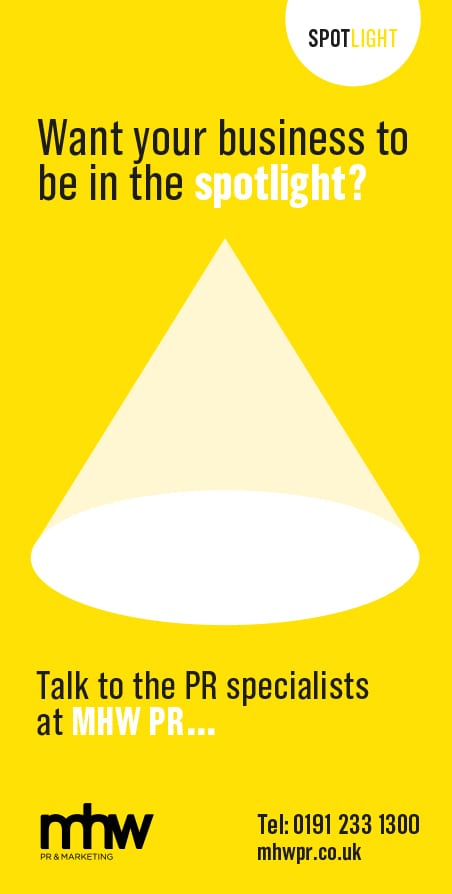 Did you grow up in the North East or did you decide to relocate here later in life?

I was born in Denton Burn and at the age of two moved all the way to Heaton. For four years in my late teens I travelled the world working as a musician then I returned to Heaton where I still work and live with my family.

What challenges do you think business in the North East faces?

In the property sector, policy and law making tends to focus upon London and the South East. The North East is a very different market where we have to work harder for our money. People demand a higher level of service because we do not suffer the over demand prevalent in the South East.

What is your favourite aspect of life in the North East?

Take a short car ride in any direction. You could be walking our stunning beaches or countryside, in a Michelin starred restaurant or at a shopping centre complete with Imax cinema. The list goes on with historic castles and monuments, fantastic outdoor opportunities and a vibrant arts culture with world class galleries and theatres. Plus we do not suffer the M25 Ring of Hell. If I am returning to the office on a Friday afternoon and crawling along the Western Bypass I will be gritting my teeth. Until the national traffic report comes on the radio. Every motorway south of Leeds congested, the M25 at a standstill for miles, diversions, road closures and general mayhem. So, I relax, smile and thank heaven I will be home in about half an hour. The cost of living here in the North East is a factor too.

Do you have a favourite hot spot for a business meeting?

My office has Italian biscuits, Lavazza coffee and free parking. I find that hard to beat.

Where do you like to eat out in the North East?

Our region has a fantastic diversity of excellent restaurants. We recently went to a Mexican themed pop-up tapas restaurant on Newcastle Quayside which is about as left-field as it gets. In my opinion '21' still leads the pack. My parents were restaurateurs so I grew up around Terry Laybourne but we have new challengers like House of Tides keeping Terry on his toes. A firm family favourite is Cal's Own on Holly Avenue West. Calvin started out just up the road renting a shopfront in Heaton, built the business and relocated to Jesmond. Ingredients are mainly sourced from the Campania region of Italy certified by the DOP – Denominazione di Origine Protetta (literally "Protected Designation of Origin") supplemented with fresh local produce. This is food to warm the heart of anyone of Italian descent and those unlucky enough not to be.

Where do you like to unwind in the North East?

With two children aged seven and three unwind' is a relative term. Practically all my leisure time is family oriented and the North East has more than enough activities to keep us happy. Theme days in country houses, ice skating, walking, cultural events and of course, shopping. Being of Italian descent big long family meals with lots of red wine are an essential element in the mix.

Are the people really friendlier?

Yes. Travel the tube in London and watch everyone wrapped in their earphone cocoon? I find I can strike up a conversation with a stranger in the North East far easier than I can in London where the reaction tends to be "What's he after?". Our reputation as a friendly region is well deserved. Here in the North East you might actually get to know your neighbours.

What do you think is the best view in the North East?

Locking the office door at 5.00pm on Friday then heading home to my family? Other than that, we manage a block of flats near Tynemouth Priory. One flat has a turret where you can view the Priory, all the way out to sea, the mouth of the Tyne then over North Shields and up the river. It is a view I never tire of. The view from Steel Rig along the Roman Wall is pretty spectacular and in winter puts me in mind of Roman soldiers arriving at the wall in December and wondering who they had offended to get posted there. It is almost impossible to list all the stunning views in our region. Dunstanburgh Castle, the countryside around Ford and Etal, the Tyne Valley, Durham Cathedral…our region is not short of spectacular views.

Do you think living and working in the North East offers the same opportunities as elsewhere in the UK?

I think I have answered the advantages of living in the North East already? As for working in the region, for anyone with entrepreneurial spirit I think we offer fantastic opportunities. It is far easier to start out then build a successful business here because of lower rent, rates and logistics costs. The North East Chamber of Commerce offers excellent support to start-ups and growing businesses plus there are a number of active business support networks. The North East survived the loss of coal mining, ship building and much of our heavy industry. Ironically I feel this has generated a culture of survival, with people eager to take a chance on something new rather than look back to the past.

Have you had any experience of working elsewhere and how did it compare?

As a younger man I travelled the world working as a musician and had many opportunities to settle in other parts of the world or elsewhere in the UK but I chose to live and work in Heaton which pretty well says it all. I hope my previous answers demonstrate that for me at least, our region comes out top.