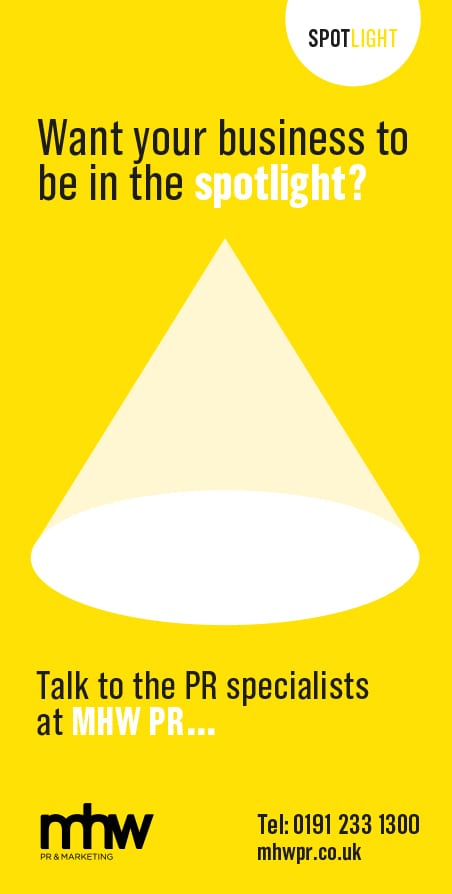 What were your career ambitions growing up?

I wanted to be a professional athlete. Sport, in particular swimming and water polo, was my life growing up and I only started thinking about an actual career when I finished University. I do think that my fleeting career as a junior athlete prepared me much more for running a business than the world of academia. Getting up at 5am to go training before, as well as after school instilled a strong work ethic within me as well as teaching me discipline and resilience, all vital attributes for running your own business.

Tell us about your current role?

I currently manage the day-to-day operations of my PR and marketing business, Harvey & Hugo. One of my main responsibilities is business development which is a very sociable role involving attending many meetings and events. I've also recently become a director of local charity, Wag & Company North East Friendship Dogs, which enables visiting dog teams to build meaningful new friendships with older dog lovers across the North East of England.

What is your proudest business achievement?

There's no one moment in particular, but when I hear people say lovely things about my business and my team, it makes me very proud.

How has the media industry changed in the last decade?

Like all industries it has become more digital, but I set up my business around this and made sure services such as social media and content marketing complemented our traditional PR offering. As the online world accelerates, visuals are gaining more attention than words so we have added services such as graphic design, animation and video to meet demand.

What are you currently working on?

I'm currently developing our new brand vision for Harvey & Hugo as well as a new website to showcase our increased offering. Also, currently working on a number of PR and marketing strategies for clients in a variety of sectors, so there's never a dull moment.

Tell us about your team? We call ourselves The Pack – this quote from The Jungle Book is our motto: "For the strength of the pack is the wolf, and the strength of the wolf is the pack." We're all rather unique individuals, but when we combine PR, marketing and design forces, magnificent things happen! There's always laughter coming from the office, but I wouldn't have it any other way.

What is the best piece of business advice you have been given?

I've been given so much good advice over the years but one piece that stands out was from Karren Brady at a recent conference. She said: "If you don't like something, change it. If you can't change it, change your attitude about it." This resonated with me as I often worry about things I can't change in business, however I've learnt to just alter my perspective.

What advice would you give to your 18 year old self?

Believe in yourself. Although it didn't always appear so on the surface, I've always struggled with insecurities while growing up. It's only in the last few years that I've become more confident and noticed the difference it can make. I wish I'd had more of this as a young sports person as mental attitude is half the battle.

Who are your heroes inside and outside of business? I guess it's more sport that business, but I currently greatly admire Gareth Southgate's leadership of the England football team.

Outside of business my Mum and Dad are my inspiration. I aspire to achieve what they did in business as well as raising a family the way they raised me and my brother.

My husband, Chris is another hero of mine, not only because he used to be a marine, but for how he battled a serious illness which involved three major head operations and left him with a titanium forehead. Although this does now make him an inconvenience going through airport security.

How do you unwind outside of work?

I have a shameless love of fancy dress and outside of work it's rare to catch me in anything else!

My fancy dress section of my wardrobe is constantly expanding with the most recent addition being an inflatable Mr. Blobby suit which I donned for Harvey & Hugo's 90s themed ninth birthday party. My favourite fancy dress costume is 'Joy'. Joy is an 86 year-old, funloving lady who summers in Benidorm. I attend friends' weddings (at the bride's request), hen dos and general family occasions as Joy. She even sometimes comes into work. My friends prefer Joy to Charlotte.

Favourite Book/CD/DVD? Apologies for my answers here, but I recently read the children's book Diary of a Wombat and it was the best thing I'd read in a long time.

Favourite CD is Meat Loaf's first album Bat out of Hell.

In terms of films, I love ridiculous comedies such as Step Brothers, Borat and Napoleon Dynamite.