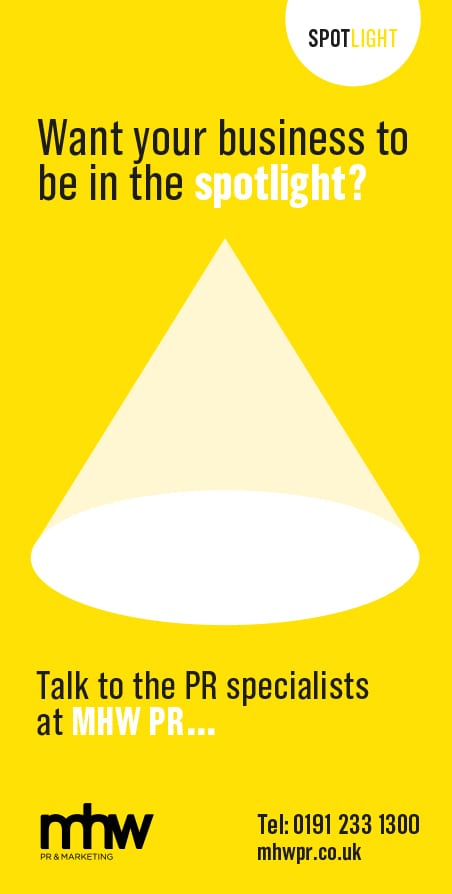 Did you grow up in the North East or did you decide to relocate here in later life?

I was born and bred in the North East, Stockton to be specific. I then moved to Newcastle to be closer to work before throwing all my possessions in a van and heading over to the North West. However, the North East pulled on the heartstrings and I came running back home in 2009 and have never looked back!

What do you think it means to be a business person in the North East of England?

It's such a supportive region. I think there's a genuine desire for businesses and people to do well. I've always worked at building my contacts, people who understand what you do. This always

makes it so much easier for them to get behind and support you. Use the region's friendly nature to your advantage.

What is your favourite aspect of life in the North East?

The freedom! You could spend the morning by the coast in Northumberland, then drop into Newcastle or Durham for lunch before moving on to North Yorkshire or the Lakes in the afternoon. There is also so much variety in terms of places to eat, sights to see and things to do. Add to this the aspirational development happening on Gateshead quayside and Middlehaven in Middlesbrough. Thisis an exciting place to live.

Where do you like to eat out in the region?

The Stables in Wynyard is right on my doorstep, so often gets a visit. We've had some stunning meals at The Bay Horse in Hurworth. Having a little girl means meals out are actually an occasion these days. However, next on our foodie hitlist is a steak from Tomahawk, they look amazing!

Are the people really friendlier?

Oh, completely! You can guarantee that at the centre of any decent social event, party or gettogether, you'll find someone from the North East making it special. We're such social animals with a great sense of friendship and family.

What do you think is the best view in the North East?

Wow, what a tough question! Having lived in Tynemouth, I loved looking out across the river and coast. I've seen some fantastic storms. One secret and stunning vista is from the outskirts of

Hartlepool where you can literally get a view of all of Teesside in one snap-shot view. Pretty special if you're near Elwick.

Do you think living and working in the North East offers the same opportunities as elsewhere in the UK?

In terms of living, it's unbeatable for the beauty in our coast, countryside or the history of places like Durham, Yarm or Morpeth. I think the North East offers some unbelievable business prospects across a range of industries, specifically tech-based ones offering some genuinely game-changing opportunities.

Have you had any experience of working elsewhere and how did it compare?

I've been lucky enough to live and work in a handful of places across the country. At the time of moving to Liverpool, it had just won European City of Culture and was in the process of undergoing an incredible and monumental transformation. For me, it stands out as somewhere that feels so close to living here in the North East. Friendly, passionate and proud.