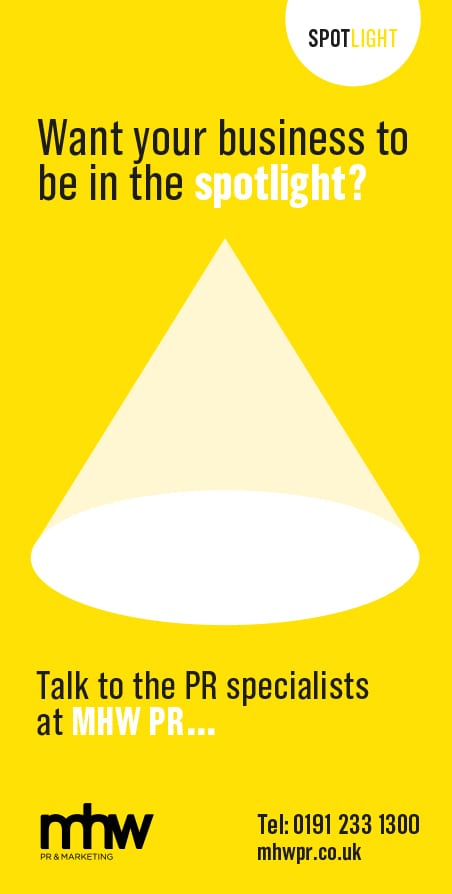 Did you grow up in the North East or did you decide to relocate here in later life? I was born at Newcastle General Hospital and grew up in Ponteland so yes, I'm North East born and bred!
What do you think it means to be a businessperson in the North East of England? As a business person, or more specifically, a business owner, I feel very aware of my responsibility to others in terms of creating quality, sustainable jobs for good people. The North East is a great place to live but it's up to business owners to make it a great place to work too.
What is your favourite aspect of life in the North East? The North East has such a fantastically rich cultural and industrial history, which is something I feel particularly proud of. Whenever I see the cranes along the River Tyne, St. James' Park, the castles dotted along the coastline or even modern buildings like the MetroCentre, I feel a very strong connection to the North East as these landmarks are all part of what makes the region so unique.
The North East is a great place to live but it's up to business owners to make it a great place to work too.
Stephen Sumners, Explore Wealth
Do you have a favourite hotspot for a business meeting? I'm fond of The Badger pub and restaurant in Ponteland for a quiet business lunch in a nice, rustic country pub surrounding. Every so often though, I do like to treat clients to a day out in one of the hospitality suites at St James' Park.
Where do you like to eat out in the region? I really enjoy dining out with my wife and family in and around Newcastle. Pizzeria Francesca in Jesmond is a particular favourite for good, authentic Italian cuisine and hospitality, or if I'm in the mood for some spice, I like Sachins Punjabi restaurant.
Where do you like to unwind within the North East? I'm a huge Newcastle United fan so I can often be found either at St James' Park or in one of the city centre's many pubs on a match day. The atmosphere in the town when the team are playing at home is absolutely electric and is definitely something everyone in the North East should experience at least once.Are the people really friendlier? Absolutely! It never fails to amaze me how total strangers of all ages will strike up a conversation with me if I'm out and about by myself. I don't think you find that in many other parts of the UK.
What do you think is the best view in the North East? Bamburgh Castle at sunset is a personal favourite. The view of the castle looking up from the beach is really very impressive!
Do you think living and working in the North East offers the same opportunities as elsewhere in the UK? In my profession, I would say that the opportunities in the North East are just as good as those you'd find in London and the south but with a few added bonuses! We have generally shorter commuting times and lower property prices, meaning you can generally get more bricks for your money, all of which adds up to a better quality of living.
Have you had any experience of working elsewhere and how did it compare? I've been lucky that during the course of my career I haven't had to venture too far from home. I have worked in Darlington, Middlesbrough and Leeds which are all very 'northern' so the people and work experience was much the same, the only thing that was different was the lack of a post-work pint culture, which at the time was rather disappointing!