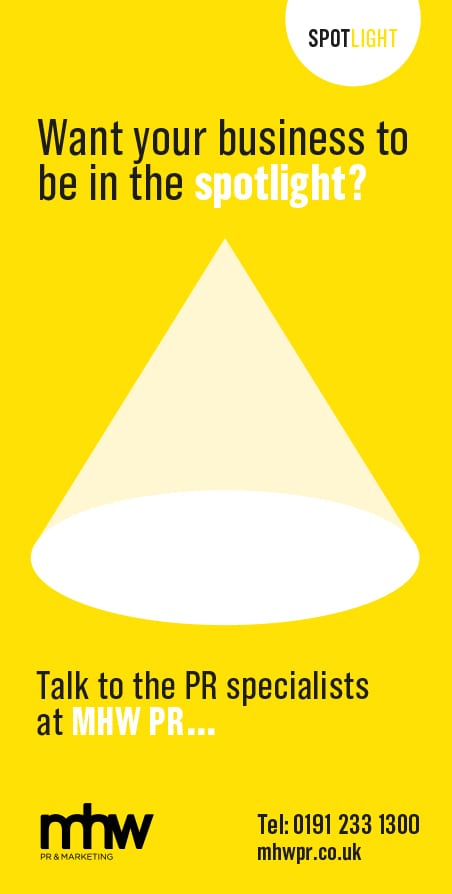 Having helped businesses recognise their potential for over a decade, 'SuperConnector' Paul Lancaster, founded his own Inbound Marketing consultancy Plan Digital UK in 2016. We learnt more about Paul's story and the inception of Newcastle Startup Week - the 5 day, citywide event.
What were your career ambitions growing up?

From as long as I can remember, all I ever wanted to do was 'make a difference' and help others. Although there was no clear plan to how I was going to do that, with hindsight everything I've done up to this point has involved giving people help and advice, signposting, matchmaking, funding, marketing, promoting and generally encouraging people to achieve their aims in business or in their personal life.

Can you briefly outline your career path for readers?

"I'm inspired and motivated by anyone who has made the decision to create, make or start something new, especially those I'm surrounded by in Newcastle and the North East."
Paul Lancaster
After studying a degree in Geography BSc (Hons) at The University of Leeds between 1995-1998, I spent a couple of years doing helpdesk support for Sage's payroll software before teaching myself basic web design in my spare time and getting a job as a Graduate Trainee Web Developer for British Airways. Although this was a great experience I quickly realised I wasn't a very good developer and preferred being a Website Editor producing content (copywriting, images, videos, etc) for the Ba.com website. After the tragic events of 9/11 unfolded I was one of many people to be made redundant at the airline which made me realise just what a small cog I was in a very large machine. Over the next few years I followed a lifelong passion for music by becoming a semiprofessional house music DJ, producer, club promoter and record label owner whilst working for music development agency Generator. After a couple of years I moved to local enterprise agency Project North East where I stayed for 7yrs and is where I caught the entrepreneurial bug whilst helping to run the Shell LiveWIRE youth enterprise scheme. I then returned to Sage as an 'Inbound Marketing & Social Media Specialist' for their cloud accounting and payroll software Sage One, before becoming the 'Community Engagement & Partnerships Manager' for the Government-backed Tech North (part of Tech City UK) to help grow the digital economy of the Northern Powerhouse regions.

Tell us about the formation of Plan Digital UK.

After spending over 15yrs helping other people start and grow their businesses I thought it was about time I started my own! Hanging out with entrepreneurs and business owners, attending business startup events and reading all the relevant books rubs off on you and the desire to be my own boss was too much to contain any longer. When Tech North's original remit and leadership changed I took that as an opportunity to start my own business, Plan Digital UK, in April 2016 and I'm pleased to say I'm loving every minute of being my own boss!

What services do you provide?

In simple terms I provide Inbound/Content Marketing, Social Media & Business Development consultancy to startups, scaleups and enterprise level clients with a particular focus on tech, digital and creative businesses. On a broader level, I do everything I personally can to help encourage more people to start and grow their business in the North East of England, which includes using local, regional and national media plus my above average number of Twitter Followers (almost 10,000 @lordlancaster) to attract inward investment and running the #ThisIsMINE (Made In North East) social media media campaign to shine a light on our unique, innovative and creative businesses.

What inspired Newcastle Startup Week?

Although I think Newcastle is a fantastic place to start and grow a business, experience showed me that most people still struggle to know where to go for the best help and advice. Newcastle Startup Week pulls everything together under one umbrella and gives people in 5 days what it would normally take them 5 months or even 5 years to learn. The event is something I'd been thinking of doing for a few years prior but my day job meant I simply didn't have the time to do it. Now, this is my day job and it's a natural step for me to do as it means I can pull all my knowledge, experience and contacts together to give people the best business startup event in the UK.

What can visitors expect?

5 amazing days of inspiration, motivation, practical tips, advice and hands-on business support from people who have been there and done it for themselves or are still in the thick of things right now. It's a celebration of local success stories of the past, present and future and a wonderful demonstration of what a closeknit and collaborate business community we have in the North East. Each day has a different theme of 'Inspiration', 'Getting Started', 'Funding & finance', 'Growing & Scaling' and finally 'Keep Going or Pivot?' Over 600 people attended last year and this year we're aiming for 750+.

Do you think North East businesses always recognise their potential?

It depends who you ask. I think the ambition & potential is there, particularly in the tech and digital sector, to grow global businesses that are still headquartered in the North East. However, there still aren't enough examples of people who have been through that process which means that Sage is still way ahead of everyone else. Even so, there are a bunch of other tech businesses that have grown rapidly in recent years and are now being tipped to be some of the next tech 'unicorns' ($1 billion dollar valuation) and we should celebrate, support and learn from them so others can follow.

What's the secret to success in the tech sector?

In my opinion there are too many tech startups in the world that are little more than 'features' instead of groundbreaking new products which makes it difficult for them to make money and vulberable to competitors, especially large competitors. If you have a truly innovative tech product you have a chance of success but you then need a great team of marketing, sales, PR, HR, leadership and everything else that a nontech business needs. You also need the right funding and investment in place with investors that are willing and able to take a long-term view instead of expect you to exit in a couple of years. Think bigger.

What's the best piece of business advice you've been given?

It's not specific to business but the older I get, the more I appreciate the phrase "Shy bairns get nowt." I think everyone in the North East business community needs to think bigger, be bolder and do a better job of collectively promoting our strengths outside our region and around the world.

Who are you heroes in and out of business?

I'm inspired and motivated by anyone who has made the decision to create, make or start something new, especially those I'm surrounded by in Newcastle and the North East. Of the 50+ speakers who appeared at Newcastle Startup Week last year and will be there this year in May is someone who has inspired, motivated or helped me start my own business so have a look at newcastlestartupweek.com to see who they are. When it comes to well-known heroes, these include Graham Wylie, Brad Burton, Seth Godin, Jeff Bezos and Elon Musk.

How do you like to relax?

I love going to the cinema with my wife and kids and occasionally go to the Tyneside Cinema during the day which is a perk of being selfemployed and working in Newcastle city centre. It's the best way I know to completely switch off, relax and lose myself in another world.
Paul Lancaster Founder & Event Producer Plan Digital UK plandigitaluk.com