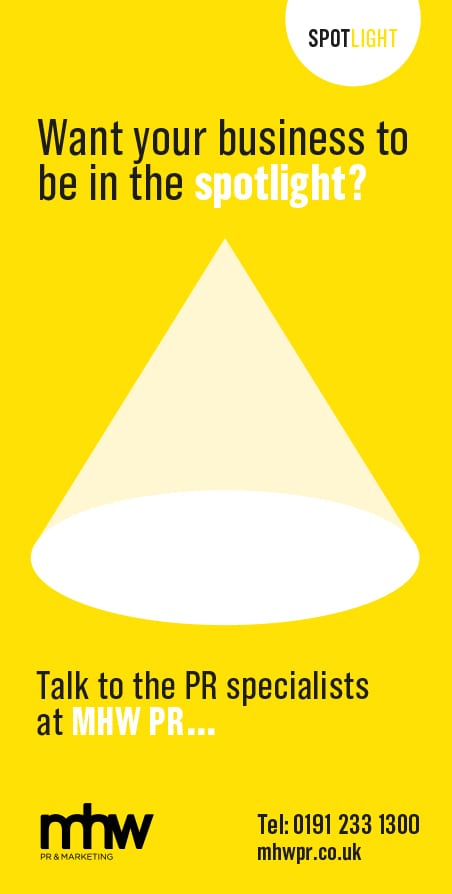 Gill Burgess founded revolution and has grown it into one of the region's most respected marketing agencies, servicing a list of well-known clients throughout the UK, across a wide range of sectors.
Tell me a little about your background? I first got into marketing after doing some work experience at Faulkner Browns, the architectural practice. I'd been unsure of the direction I wanted to take, but a conversation with the person that coordinated their marketing activities changed that. My work took me to the North West, where I settled.

In 2002 we suffered a bereavement in the family and this meant spending more time back in the North East. I realised I wanted to move back to the region and dragged my husband and children with me. It was at this point I started the business, more out of necessity than a burning desire to be self-employed, although I had always liked the idea of running my own agency.

How has the business grown?

It's a bit of a cliche', especially for a creative and services business; I started in the spare room of our house in Corbridge, with just me in the company. Within a few months I knew this wasn't sustainable, I found some office space in Hexham and took on my first two members of staff. We were based there until five years ago when we moved to the Northern Design Centre in Gateshead. There are fifteen of us in the company now and we have big plans for growth.

Our first client was in the education sector, which matched my background. I'd say our first big client was Hadrian's Wall Corridor, this was the first of a number of destination-based clients, which is still a sector we do very well in today, although our portfolio is much more diverse. We have clients in sectors including construction, energy, charity, logistics and professional services. Regardless of sector, the one thing our clients have in common is a genuine determination for growth; it's very exciting to be part of that.

What attracted you to join the Scale-up Leader's Academy?

For me the Scale-up Leader's Academy has a number of attractions, but first and foremost I'm looking for a blueprint for growing r//evolution. I'm also looking forward to the mentoring element of the Academy. The timing was perfect for us; it was launched at exactly the time we were looking to scale-up.

It is a great opportunity to share challenges with our peers, and to help them with their scale-up issues too. It was very helpful to hear from Sherry Coutu at the Entrepreneurs' Forum conference, she founded the Scale-up Institute and wrote a report on how UK companies can overcome the barriers to growth.

I'd heard of similar programmes, like Goldman Sachs 10,000 Small Businesses, so definitely had an idea of what I was looking for. I've been a member of the Entrepreneurs' Forum since the business has been large enough for me to join. It's a different kind of businesses organisation, there is a real will among the members to welcome new people and share the benefits of their experience in business. I don't think any other region has anything like it.

How did the recession affect your business?

In short, it was a difficult experience. I had not seen such a downturn before or since. The phones stopped ringing and existing clients found it harder and harder to get projects signed off. We were well prepared, or as prepared as we could be, we had made sure our list of clients covered different fields across the private, public, and not-for-profit sectors.

We got through the recession by focussing on the clients we had and working very hard, there were very few new ones to win. We made sure that the level of service we provided was exceptional.

How has marketing changed since you

started the business?

The whole sector has changed massively. While the principles that underpin what we do remain the same, the rise of digital marketing means that on the surface things are dramatically different to how they were in 2002. Digital existed back then, the world had been through the first dot com boom, but the shift has been exponential.

In this time the internet has gone from something that played a small part in our lives to something than underpins the entire human experience for most people, whether they know it or not, and marketing has followed this trend. One of the big challenges for a lot of marketing agencies today is finding people with the right digital skills; we have even recruited from outside of the region.

What would you say your Unique Selling Point is?

We're the results agency. We have always been aware of the need to produce a demonstrable return on investment for our clients and use this to maintain an almost religious focus on results. The rise of digital plays into this in a big way, as you can get feedback on the success of a campaign instantly.

How do you keep your team motivated?

We recruit for attitude and have a stringent process for ensuring that when we bring new people in, they are a good fit. Once we've found someone with the right attitude, we make sure they have a comprehensive understanding of our roadmap for business growth and their part in it. We also invest in our people and their personal development.

On top of the professional side of work, we're a very energised team with lots of opportunities for social and charitable activities. Recently we have been supporting the Gateshead Foodbank. I suppose the thing that underpins motivation in the company is that people are thoroughly engaged with business metrics and understand that there are good opportunities for career progression.

How has your own motivation changed since you started the business?

I still wake up in the morning excited to go to work. I love growing the company, and helping our clients to grow theirs through marketing. I would say my motivation is the same if not greater.

How does the business structure work?

We have split the company into three service areas, each led by a head of service, one of whom has been with the company for some time and two who are relatively new. Each of these is almost a business within a business, looking after one of our main competencies. This layer structure and layer of middle management has allowed us to improve decision making and communication, while improving the performance of each team and the business overall.

Have you had a mentor?

I have had a mentor in the past, for almost two years. This was someone experienced in business growth who shared invaluable knowledge with me. As I mentioned, I'm looking forward to being linked up with a mentor as part of the Scale-up Leader's Academy. For entrepreneurs a mentor who you can trust and respect, who has no agenda that conflicts with your own, can be a really positive thing.

Any future plans you'd like to tell us about?

Obviously we're looking to grow the business. We have recently created r//ecommerce as a sister brand to deliver our e-commerce work. In the short term we're looking to add another service area, further into the future we're looking to add to the list of clients we have outside of the region, and maybe even open an additional base to support them.