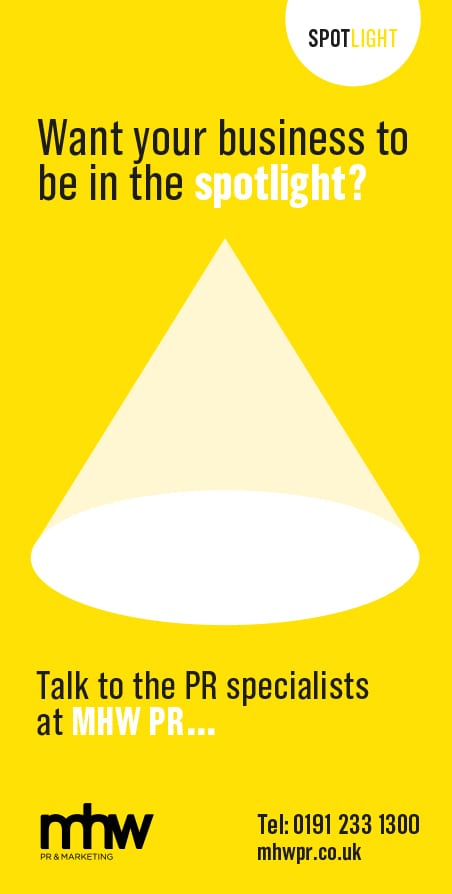 What were your career ambitions growing up?

I wasn't sure what I wanted to do after high school, so I literally did something I thought I'd enjoy – went to 6th form and completed a course in Leisure & Tourism and PE. Basically me and my mate enjoyed two [almost] stress free years. Following this I ended up working in a shop for a year. I was more interested in how good the type looked on the labels I wrote than anything else.

I'd always been interested in graphics and illustration, so at the tender age of 19 I returned to College to study graphic, and subsequently editorial design. Having always had something in the back of my mind about running a studio, after 5 years in London, returned home and started up on my own. Classic back-bedroom stuffÉ

What were your first business premises?

As above, started in the spare room before moving to a small office on North Shields Fish Quay. I was simply the worst at working from home. Couldn't do anything until the house was tidy, so the sooner I got out the house the better!!

What are Cargo Creative's defining qualities?

We pride ourselves on delivery. We have a very responsive team, and this is reflected in our client base. Alongside our bigger projects, we also have a lot of historical clients who rely on us for quality work, turned round in a short space of time. This may come from my background in a news room environment – I don't know – but there is something enjoyable about the short deadline now and again to keep you on your toes.

How has your company grown?

Steadily, year on year. We have refused the temptation of external investment, but continued to grow our client base through referral and word of mouth. It's a story I hear a great deal, but it works – building relationships and being able to trust your partner agency is a good message to any organisation engaging with a creative agency.

What has been your greatest

achievement to date?

From a client perspective, being able to work with some of the North East's leading companies, but ultimately we can only deliver this with the team we have in-house. So for a small company like ours to be able to retain staff and grow is a real achievement.

What is the best business lesson

you have learned?

Never trust a book by it's cover. Only through a clear understanding of a client can we then produce our best work in response to a brief and go on to add real value to their business.

How do you keep the team motivated?

A mixture of a working environment where everyone is valued, along with a good range of client projects to keep everyone interested. We are pretty flexible as an employer and as many of our staff have been with us of over 4 years, their personal circumstances have changed a great deal in that time – basically we are all getting older! Marriage and the arrival of kids place additional pressures outside of the studio and we are always mindful of this to make sure staff have the balance right.

What are you currently working on?

We continue to work with our ongoing clients in the professional service sector, along with some exciting start ups such as Ride Electric across the North East. On a national level we are working for a range of organisations (who can't be named due to confidentiality) who traditionally have been very 'offline' so exploring the possibilities of what digital can offer them is extremely exciting for us both.

Where do you hope the business

will be in 5 years time?

We will continue to grow the way we have. We will never claim to be a full service agency, however our clients no longer require just a one off solution. You cannot deliver a digital solution without considering a brand. You can't deliver a brand without understanding the client and their audience. A website isn't going to return on investment unless it is promoted. With this in mind the Cargo offering has changed a great deal in the last 12 months. We now offer a full range of creative, digital and marketing services to ensure that our clients understand exactly what their digital landscape looks like and how the work we carry out makes a difference to their bottom line.