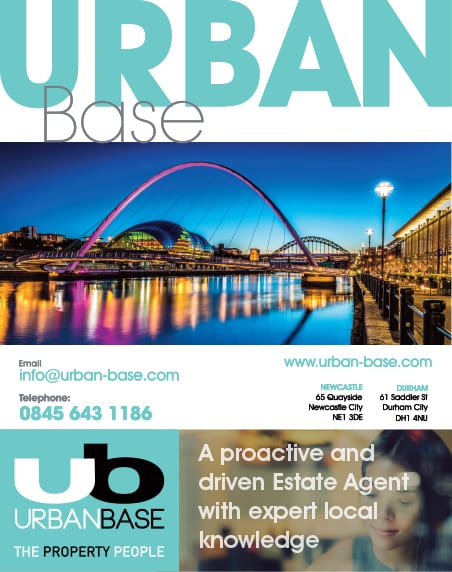 Following an incredible two years for the property market during what has been an unprecedented time for the world' our business has gone from strength to strength offering expert advice to our many clients and developers across the region
Here's just a little insight in to a year at Urban BASE;

January…foundations for the year

We quite literally got off to a very muddy start to the new year on our new sites under construction at Langdale Grange by Centaurea Homes and Hartley Gardens by Chapter Homes. Both of these new homes sites got off to a flying start in 2021 with strong demand from the discerning buyers looking for good quality homes offering excellent value for money. There was a also a fabulous delivery of pink roses and champagne from a delighted Mrs Ireland who both sold and bought from our Durham team. We also relocated our headquarters back to the vibrant Quayside.

February…love is in the air

The most amazing creative video work was created with Tiff Box Creative for a new development site and also a special Meet the Boss video for a Clive Owen Accountants event' with Take That providing the music 'Never Forget Where You Come Here From'. We just love David's attention to creativity in our property videos. #

March…it's Showtime

Along with the rest of the country we continued to clap for the NHS and share in celebrating their great work. We also managed to sneak in a Covid-safe appointment-only launch near South Shields at the fabulous Langdale Grange by Centaurea Homes with interiors by Inside Contracts. A stunning coastal themed show home was created as the main attraction in the village of Primrose. There was also a very special "Welcome Home" for the very first residents on to the stunning village development for Homes by Carlton in Thorpe Paddocks' who strictly speaking may have helped our own Sara Davies a little!

April…spring clean

Kitchen Warning: If ever you think you love your home and already have a fabulous kitchen then don't visit the trade depot of Life Kitchens for Living in Aycliffe! Their show area is outstanding and makes you want to rip out every drawer and start again' and again' and again. So much choice – who knew there were so many different quartz work tops with so many door handles. Loved this place. We also had another muddy site visit with Believe Homes on their inaugural development site near Durham City' another exciting development ahead…. watch this space.

May…light nights' and long days

With property rising in price at its fastest rate in fourteen years' with the north east reporting 13.7% in previous 12 months' a crazy time to take a deserved break and beautiful Beadnell was calling so working from the Beach House was just what was needed. We also sponsored Chester Le Street United ladies team.

June…Boris stamps it out

The end of Boris Johnson's stamp duty holiday for the majority was in sight… could not come soon enough for us agents and solicitors. A beautiful stone built farmhouse in Bingfield near Corbridge got caught up in the SDLT deadline and I am delighted to say the legal team at EMG got it over the line. The market was already strong towards the end of 2019 and by the time we entered 2021 it felt like the whole country was wanting to move. A further highlight of the month was the Provenance development team inviting us to assist with the final sales at the award winning Byzantine House in Jesmond' one of the finest residential schemes providing and exemplary conversion of sheer luxury homes.

July…summer nights

This was a month of celebration; Following the success of Fulforth Gardens in Durham for Forric Developments we decided to hold a champagne garden party for all of the new residents who have created their very own special community and new life-long friendships have been made. We also celebrated the Euros Final frenzy and to keep the sporting theme I was given my first ever golf lesson at Ramside Hall which followed by my first ever set of golf clubs – yes I'm addicted!