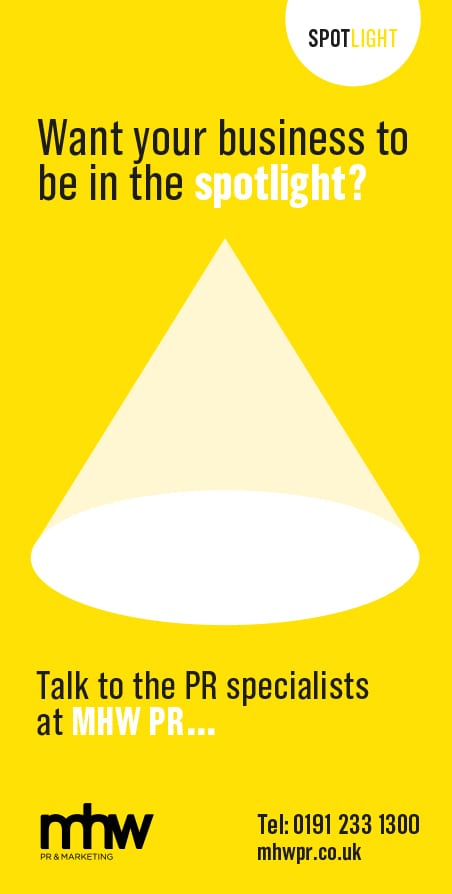 Did you grow up in the North East or decide to relocate here in later life? Yes, born and bred, and proud to be so. I have lived here all my life other than a brief

excursion to Cumbria. I went to school and University in the North East and got my first real job working for Bank of Scotland Group in Newcastle.
What is your favourite aspect of business life in the North East? I love working within the North East professional community. Whilst it's very competitive, this doesn't get in the way of you being able to conduct and transact deals in a friendly and respectful way. I have been humbled by the support this community has given me since I started my business and I will always remember that. This drives me

to help others in any way I can.
Do you have a favourite hotspot for a business meeting? It has to be one of the Grey Street networking hotspots of Blake's or Brown's, where you can find a veritable smorgasbord of professional advisers, bankers and venture capitalists.
Where do you like to eat out in the North East? As I live in Whickham, Newcastle tends to be where we eat out most. CafŽ 21 is fantastic

and you never have a bad experience there, but for me the best food you can get in the

North East is at Kenny Atkinson's House of Tides. The quality is exceptional. However I cannot miss the opportunity to mention a local family favourite The Jamdani, where the hospitality is unsurpassed. But don't tell anyone or I'll never get a table!
Where do you like to unwind in the North East? As a family we spend a lot of time on the Northumberland coast at Beadnell or Newton By The Sea. It doesn't matter whether its summer or winter, walks on the beach and the coastal views are amongst the best in the country. The occasional round of golf at Dunstanburgh, Bamburgh or Goswick has been known to feature!

Are the people really friendlier?

Yes I think we are, but I genuinely think Northerner's in general are friendly.

What is your favourite view in the North East?

When you reach the brow of the hill walking down to Lower Newton, the view of the beach and Dunstanburgh Castle in the distance always takes my breath away.
Do you think living and working in the North East offers the same

opportunity as elsewhere in the UK? I think the region suffers from its geographical location as far as opportunity is concerned, maybe because of the relative size of the regional economy. However I do think the region's business community is pretty resilient and is protected to some extent by its remoteness and parochial nature. I think North East business people like

to deal with North East business people.

Have you had any experience of working elsewhere and how did it compare?

I have worked mainly in the North East but did work in Cumbria for a brief period. Working and running teams previously for major financial institutions means I have spent a lot of time in Leeds, Manchester and Scotland, but there's nothing quite like being back in the North East.