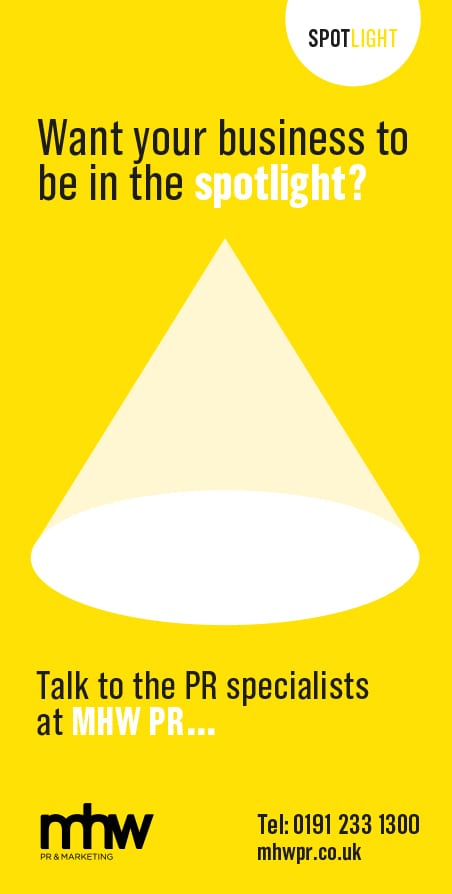 Growing up, Michael Armstrong aspired to be an astronaut. Now, Michael is helping businesses across the globe to make the most of cyberspace, as Director of specialist North East digital agency, Roundhouse Digital.
What is the best thing about your job?

Working with such an exciting team who are always striving to deliver the most innovative solutions for our clients. They keep well ahead of the curve and are always enthusiastic to share what they have found and how they think it could be useful for our clients.

What is your proudest achievement?

There are a number of key projects that really stood out for me, delivering the first ever University website that was responsive was one. We had to persuade the University that responsive websites weren't just a passing trend or fad and that there would be a real benefit – especially in student recruitment and engaging with a younger audience. Now, nearly every site is responsive and we have been market leaders and continue to innovate in this field. We recently won a contract for the University of Wollongong in Australia, so we are not just being recognized for our work in the UK and beating UK digital agencies but in the global market too!

What advice would you give to someone starting in your career?

Experience is critical and cannot be replaced by academic qualifications. The first thing that I look for on CVs is if the person has had any real-world experience, unpaid placements or graduate schemes, anything where they will get to understand the commercial side of website development. You cannot just deliver what you want, you must improve the business of your clients and these days a nicelooking site is not sufficient. The ability to translate a client's situation into a customer-focused solution is important in the success of somebody starting out. A knowledge of the technical world is also key; understanding what the next big thing is, whether it is smart devices or voice activation, we need to know where technology is taking us and how we can improve the experience for each and every user we create content for.

What is the best piece of advice you have been given and why?

"If you make a mistake, make sure you learn from it". I spent my early working career trying to be a perfectionist and letting it really affect me when something didn't go right or didn't go to plan. That would totally demotivate me. As your experience grows, the number of issues that you have to deal with is lessened because you have learnt so much about past occurrences, you can do something blindfolded. I'm still not a perfectionist but I have learnt to love the unexpected.

What is the biggest challenge you have faced in your career so far?

Keeping our current and potential clients up to date with the rapidly changing digital marketplace and being able to communicate to the non-specialist, in easily understandable language. Finding great people is always a challenge but we attract the best because of the quality of the work we produce and our commitment to innovation and staff training and development. Our digital expertise is recognised within Higher Education on a global scale, and we have also completed work for some fantastic local businesses such as NRG, Hay & Kilner, the 21 Hospitality Group, the eaga Trust, PWS Kitchens.

How is your business going to change in the next 10 years?

Our business is continually changing and growing, and we will continue to do so over the next 10 years. The success of Roundhouse Digital has been in our board of Directors not confining the business to certain skillsets or services – so we can be as dynamic and change as often as our client requirements do. From learning new coding languages to offering new services such as content creation and social media management, there are very few boundaries to stunt our growth. Our plan for the next financial year is to consolidate what we have and make a real step-change. No longer are traditional job roles suitable, where designers design, and developers develop; instead an increase in niche services has led to a broadening of our in-house skillsets and the boundaries between job roles becoming increasingly blurred. As we grow we are finding that the volume of work and the inclusion of new services, such as digital marketing, consultation, strategy implementation and campaign management is requiring a range of different skills which we have never had in the past and our staff are learning new talents which traditionally would not have been considered part of their role. We need to ensure that our clients are aware of these new offerings and the high levels of in-house expertise that we have in each – as well as making sure that the staff here are happy and challenged. Similarly, we are looking to diversify our revenue streams; we have a number of products which we are looking to take to market.

What would you do if you had to change career?

I would need something which is just as varied, challenging and rewarding as my current career! My teachers at school had always said I'd have difficulty in choosing – and my careers days bounced between journalism, the law, academia and joining the forces but my role at Roundhouse Digital means that no two days are the same. One way or the other I would love to travel into space – so whichever career route can get me into orbit is the one that I would be most willing to take!

What do you like to do outside of work? Outside of work its family time. That includes my partner, our latest addition to the team – a three week old little boy and much to her aggravation the 'families' at St James Park and Kingston Park too. With having a season ticket for each of those I have had the recent luxury of seeing both Newcastle teams relegated! but if nothing else they give me an opportunity to spend time with my father, who likewise has a season ticket and talk out any stress that we may have. When not watching sport, I will be with my partner, probably working on our house or trying another restaurant, her two favourite past times.