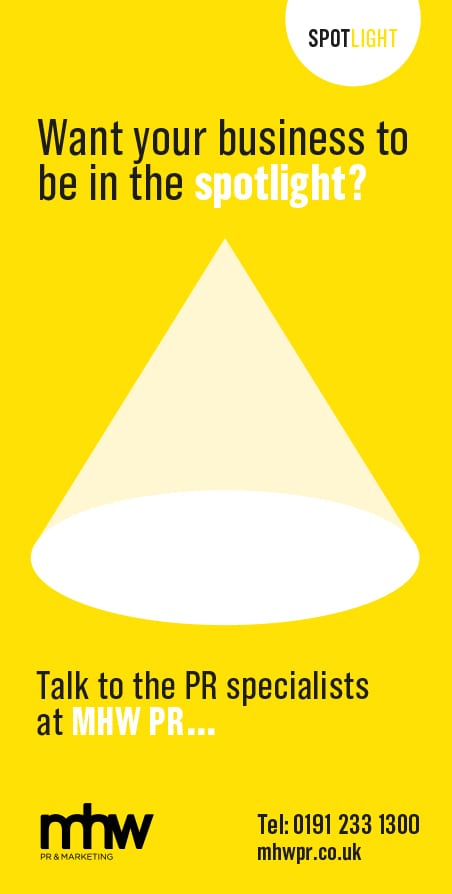 Diamond GroupFrom founding a photocopier repair business in 1992, John Burns created the Diamond Group, which provides IT, communications, photocopiers and financial services, all from its office in the Team Valley. Still going strong 24 years later, John shows no signs of slowing down and has ambitious plans for growth. His business operates nationally and has recently been supported by the Let's Grow Fund.
So tell me a bit

about your background

I remember getting in trouble with my mother when I was at school when she opened the kitchen cupboard to find that she had no sugar or vinegar left. I'd been making toffee cakes and selling them to my mates. So I suppose I've always had an entrepreneurial spirit!

I left school in 1975 with little in terms of qualifications and worked in a factory and office jobs. Knowing this wasn't what I wanted I went to college to study electronics and trained to be a typewriter engineer, I progressed onto working with fax machines and printers, before becoming a service manager, overseeing all aspects of service and customer service. I left the company in 1992 to set up Diamond Business Systems.

What was your first business premises?

Diamond Business Systems' first office was my spare bedroom, with the workshop in the garage. We started with a second hand photocopier which I bought for £25, I refurbished it and sold it for £300.

Within the first year turnover for the company was at £100,000 with around £50,000 profit, after five years the company turned over half a million but profit had reduced to £25,000, this was a major business learning curve.

In 1994 Diamond Business Systems moved to a small unit within an enterprise zone, situated next door to a pizza store. The pizza store caught fire and the blaze spread to our premises. This was devastating at the time, but resulted in us moving to a larger premises on the same estate, so I suppose it had a silver lining. Due to growth in the company, we moved to Blacks Corner, Boldon to gain a prominent position within the local area.

The early 2000s marked the digitisation of the photocopier industry, for Diamond Business Systems this meant that we had to engage with IT companies on a regular basis. I was spending around £20,000 – £30,000 a year on IT, and through this I found a business partner who was working in IT, and we formed Diamond IT in 2006.

Did the recession change your

approach to business?

Like every company we tightened our belts, but in one way the recession didn't affect the business as you might expect, service of existing equipment is more profitable than selling replacements, so customers wanting to repair their existing machines rather than purchasing new equipment was advantageous for the company.

The recession, however, did bring a difficulty in gaining finance for consumers, money had been lent freely previously but it got a lot stricter at this point. Diamond Business Systems had an efficient cash flow at this point in time, therefore we set up Diamond Asset Finance LLP, enabling us to provide customers with finance under the Diamond Group name which is a major selling point for us.

How has the market changed

since you started?

Telecoms and IT are increasingly closely linked now. More and more people are looking towards telecoms based on Voice Over IP. This means giving full technology service to small businesses, doing the whole lot for them, rather than them going to a number of different suppliers. Security is a hugely important part of our IT business now, the need for every organisation from the smallest companies up to large multinationals and government departments to take this seriously cannot be underestimated.

What do you think the next

big trend will be?

It's got to be the availability of better connectivity, there are a lot of business parks where the broadband speed is terrible. When communications infrastructure on these sites is improved the companies there will move towards hosted VOIP services too. The availability of suitable broadband is a deciding factor for many businesses when choosing premises, which is going to shape the economic map of the region for the duration because it's not available everywhere.

What would you say your

unique selling points are?

We have two main USPs, our customer focus and our completed offering from one provider under one roof. We're large enough to provide the highest quality of support to all of our customers, and small enough to know them well and understand their needs. Offering communications, photocopiers and IT all together, along with finance packages to pay for it, we remove the pain and stress of the customer trying to do it all themselves.

How do you keep everyone

at Diamond motivated?

I believe in sharing everything with our staff, this includes successes, failures, future goals and aspirations. During Diamond open days, all members of staff get involved in telling people about the company, from our receptionists to our engineers, we are a team and that's what Diamond prides itself on.

Recognition is also a key motivator at Diamond, I believe in recognising individuals for their good work. We reward each team member in a way which is tailored to them as an individual. Some employees prefer financial rewards, whereas others prefer to be recognised in other ways.

How does mentoring

feature in your business?

Personally I do bits of mentoring, I am registered as a Prince's Trust mentor, I am also available to support people through the Entrepreneurs' Forum. We are also looking to do more training with the Diamond Group, we've got two apprentices now.

What are your future plans?

My main plan for the future is growth, over the next three years we plan to take on 20 employees, as well as possible acquisitions of copier and IT companies. In the long term I would like to develop our existing staff, so eventually I would be able to take a back seat, if I wanted. I don't see me going anywhere for a few years though. As the business continues to grow I would like to help my fellow directors to develop, so we can stay ahead of the game.
John Burns is a member of the Entrepreneurs' Forum, a unique group of like-minded people who come together through peer-to-peer mentoring and a series of inspirational events to share best practice, create valuable connections and grow their business. For more information, visit www.entrepreneursforum.net