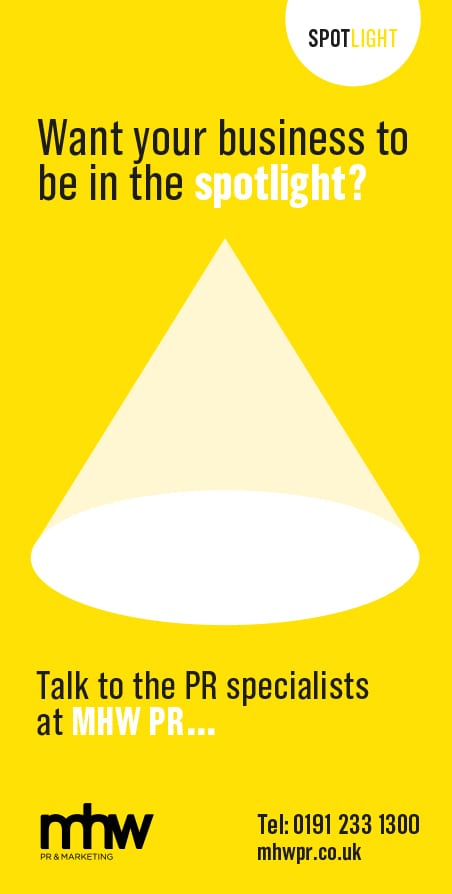 Longevity in business is something to be admired. In a new series of features, we are celebrating some of the most accomplished professionals from across the North East business community. Aimed at major players with 20+ years' experience in their respective sectors, we provide a fascinating insight into what makes them tick and what we can learn from them.
Did you always envisage a career in the industry? No not really, when I was in college and university PR wasn't a major scene in the North East, unlike today. I had notions of being a journalist to be honest from about the age of 15. My Dad was in the newspaper industry and he actually advised me that there were other avenues to use my writing skills in and enjoy a career that was more flexible. I applied to a few agencies for work experience in marketing and in between university lectures I worked for Northern Rock in the repossessions team. We were positioned next to the marketing team. I saw what they were doing, liked it and sort of fell into the PR side of it really.
What is your favourite aspect of the job? I love the flexibility and the fact that it is never boring. Each new client is like a fresh new challenge. I still love writing but the industry is moving at a face pace, with lots of online content and social media activity that can be a headache to keep up with but it is exciting too. I love getting results for clients and seeing their delight when the PR, social media, marketing or event has hits their goals for them. I still to this day get a thrill when I get a really good hit in the media.  Show me a PR person that doesn't, and they shouldn't still be in the job.
What has been your career defining moment? I have had quite a few actually. Some good, some bad. I have learnt from them all.

The most prominent are probably setting up my own agency in 2006 with a great business partner, enjoying nearly 10 years of success together and then amicably moving on from that to be a consultant in my own right. I love my current work situation and because I am happy, my clients get outstanding service. I work with a whole host of businesses, of every size from corporates to SME's and a few one man bands. My latest talent seems to be working with authors, promoting their work and managing them.
How do you measure success? That's quite simple for me actually; happy clients, a happy family and enough money in the bank to have a nice life.
What have been the biggest changes in the industry since you started? The digital era arriving. When I set off in my career in PR 26 years ago, we used to run down the high street with a brown envelope with the press release and photo print in, to hit newspaper deadlines. And there was so much travelling! Now it's mainly done with the press of a button emails, Facetime, Skype it's changed who you can work with. It's also has a positive impact for me on how much less time is wasted on transport or in the car to go to meetings. It's speeding everything up. The digital era also brought with it lots more platforms and vehicles to reach client's audiences through. Social media, websites, blogs this of course has seen a decline in printed publication sales, but the good titles have luckily stuck it out and so now PR people can offer a strong mix of traditional and modern media coverage to clients.
How has your skillset developed accordingly? I have had to move with the times and be online savvy. I now build basic, starter websites for clients alongside delivering the PR, social media and crisis management.

I also create simple adverts and creative literature too the advent of Apps means you can put your mind to a lot of things you couldn't previously. If you had said to me 10 years ago I would be blogging, building websites and be a social media whizz, I'd have laughed. But here I am. My daughter is 13 and I think she is part proud/ part embarrassed that her mum creates some of the things she and her friends see online!
Are you a risk taker by nature or more conservative? This isn't an easy one to answer. I have always been a risk taker, who backs up actions with precautions. I guess that is why I have a flair for crisis management. In many ways I believe I am conservative, but I think friends and family see me differently. Because I work for myself and because of the nature of the job when I deliver crisis management, it can from the outside look more risky and glamorous than maybe I see it myself. I also think about risk factors more as I am getting older and more experienced that is probably only natural.
To what would you attribute your success? Being surrounded by the right people, unswerving guidance and support from family and one heck of a lot of hard work. Luck is always a factor too, and I have definitely had my fair share of that.
What's your biggest weakness and how have you managed this? I don't believe people have weaknesses they have areas to improve. My area to improve is to be kinder to myself. I am very hard on myself, a selfcritic if you like.

I worry all the time! It makes me push myself very hard, and I take it to heart if I ever fail or things don't quite achieve what I was aiming for. I am the Mohammad Ali at beating myself up! My way of dealing with this is to talk it out with people I love. Then I try to clear my head and think ahead instead of dwelling on the past. It's not easy but I never let it affect my work performance. How do you remain motivated? My motivation purely comes from making the people I respect and care about proud of me. I hate to disappoint. If I get a bit lack lustre I think of who I will be letting down and how they will feel about it. It powers me back up to do my best for them. I guess doing well is my way of saying thank you for all the support I have received over the years. Would you prefer to be liked or respected? Respect is earned whilst to like someone is an instant feeling, more of an emotional human response. I fully believe that initially liking someone builds into respect over time as the relationship grows, so I'd prefer to be liked. Because it then gives me a chance to make people ultimately respect me. Did I mention, I always want it all? I don't like the word 'or'. I'll retire when I know the time is right. Something will tell me it's time to take the foot off the gas. Who knows what and who knows when like the rest of my life I'll deal with it when I get there. And when I do I'll spend a few years abroad in the sun with my laptop and finally finish my book.