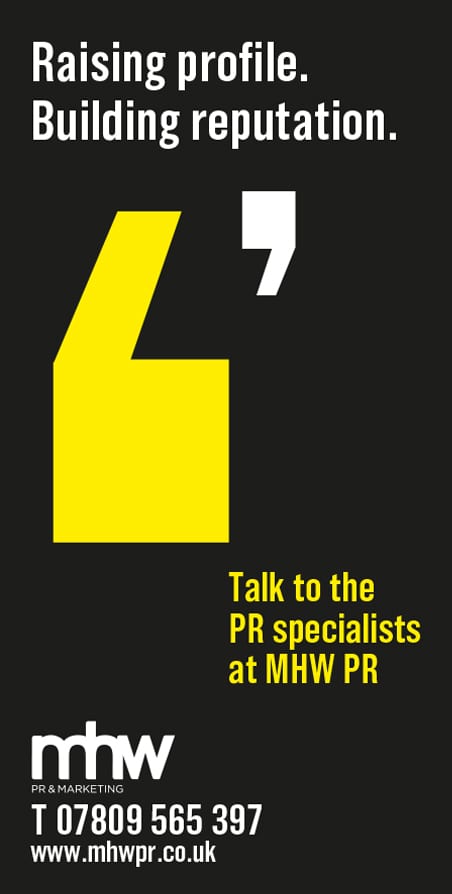 Steve Russell discovers a region packed with positivity, demonstrating that come what may, our indomitable Northern spirit will never be defeated.
These are strange and deeply troubling times. Heartbreaking images of patients on ventilators, the awful daily death toll, and crippling economic pressures are enough to induce despair. However, amidst the darkness, there is so much light. Our incredible NHS staff (and all the unsung heroes in care homes, schools, shops, takeaways, factories and delivery vans etc), the explosion in creativity, beautiful acts of kindness, and remarkable individual endeavours, such as that of Captain Tom Moore, remind us that the best of humanity often emerges from the most extreme adversity.

On a personal level, I've taken my fledgling ukulele career into ever more psychedelic territory, and recreated surrealist works of art for a hoot of a Facebook group! As a diversion from my slow descent into depravity, I thought I'd highlight some of the amazing things happening in our region, and how you can do your bit to ensure it remains a fabulous place to live when this finally ends. So here goes!

No sector has been hit harder than the arts, but as you would expect from those clever creative types, there's been a remarkable response. One of the best ways to support your favourite venues is to purchase tickets for events later in the year, or vouchers in lieu, available direct from venues or via appeals like Stockton's 'Help the Georgian Theatre' on Crowdfunder. Uncertainty and speculation continues around exactly when venues can reopen, but there are some fantastic autumnal treats on the horizon, including award-winning Kinks musical, Sunny Afternoon, at Sunderland Empire, the Horrible Histories tour, visiting Whitley Bay Playhouse, Darlington Hippodrome and Durham Gala Theatre, and the acclaimed Dad's Army Radio Show at Alnwick Playhouse. You should check before booking, but refunds or credit are generally guaranteed, should social distancing be extended beyond the summer. One UK-wide initiative well worth a look is 'National Theatre at Home', where you can view some fantastic filmed stage productions for free, via their You Tube channel, with premieres airing on Thursday evenings.

Two iconic independent venues hit particularly hard, were The Tyneside Cinema and The Cluny in Newcastle. Both issued appeals for funding in the early days of the crisis and were overwhelmed by the generosity of the response. This has given them vital breathing space, but like hundreds of venues across the region, they will need more help the longer this lasts, so let's keep our future vibrant! Newcastle blues bar, Billy Bootleggers, has promised to double any donations to their Crowdfunder appeal in the form of drinks vouchers, so what better reward for charitable spirit than their delicious moonshine!?

One of the great innovations of this crisis has been the at-home concert. Barnard Castle Facebook collective, BC: Locked Down and Loaded, hosted an evening in April which raised over £12,000 for the NHS. Gareth Beddard, who set up Live Jam @ Lockdown on Facebook with other local musicians, tells us how it came about: "Myself, Mark Dickinson, Kirsty Jamieson and Chris Kinley set this up to combat the prospect of three months without work, and as a means of keeping the local scene together. We put together an initial line-up, which went down really well, and the group now has 28,000 members. We've been running 9 shows per night from Friday to Sunday, and we were inundated with requests from performers, which shows how much talent is out there! We've raised vital funds to get PPE equipment for front-line workers via the 'Masks For NHS Heroes' appeal, and although we've decided to scale back our shows to a monthly schedule in the wake of the government's decision to ease lockdown measures, we're exploring the possibility of a celebratory festival in 2021".

Another North East musician raising funds for the NHS, is pianist, Mark Deeks. Mark's Facebook concerts have included his brilliant interpretation of Mark Knopfler's classic (and NUFC anthem) 'Local Hero'. This has proved so popular, that Mr Knopfler himself has allowed Mark to release his version as a charity single, available for a minimum donation of £3 from markdeeksmusic.com.

While they await the green light to reopen, many local pubs and restaurants

are offering takeaway services, and ordering some of your favourite grub is a

great way to keep their coffers flowing. Most are listed on delivery websites,

with many also taking orders directly. Some vendors are also participating in

vouchers schemes, such as the 'Street Food Vouchers' Crowdfunder initiative,

set up by The Free Trade, The Cumberland Arms and Mean Eyed Cat in

Newcastle, to support indy food traders like Scream for Pizza and Goodtimes

Tacos. Wylam Brewery have joined forces with other independents across the

UK, under the 'Buy the NHS a Pint' banner, where online donations will be

used to create a tab for NHS staff to enjoy some richly-deserved tipples when

this is over.

Most North East museums are charities, and as such have active online

campaigns for financial support, but despite their difficulties, they're

maintaining connection with their communities through voluntary work or

via interactive online resources. The National Museum of the Royal Navy,

Hartlepool has been supporting the community organisation, The Poolie Time

Exchange, who are delivering care packages and hot meals to the elderly and

vulnerable. Meanwhile, Newcastle Discovery Museum's website has got you

covered if you've ever wanted to have a crack at building a balloon-powered car! Contemporary Visual Arts Network North East (CVAN NE) has created 30 Creative Space Residencies, as a means of supporting local artists during the crisis.

With so many of the region's businesses suffering, The North East England

Chamber of Commerce has been actively fighting their cause, as Jonathan

Walker, assistant director of policy, explains: "Through our partners the

national British Chambers of Commerce, we have campaigned to change

measures which were not helping businesses sufficiently and have successes

including the announcement of the new easy access financial support for

SMEs in particular. We have also initiated a hub to enable businesses to

supply and manufacture PPE where front line services were in urgent need of

help which has been really successful."

The North East COVID-19 Response Group has been launched, with the remit

of providing maximum support for businesses in the immediate term and to

plan for long-term economic recovery. The scheme is a joint venture between

The North East Local Enterprise Partnership (LEP), CBI, North of Tyne and

North East Combined Authorities and alongside The North East Growth Hub,

and is providing a vital resource for guidance and support.

Adrian Waddell, Chief Executive of NE1, describes their response to the crisis:

"NE1 has worked hard during lockdown to help businesses navigate the

complexities of the Government's extensive business support packages. As we

look forward to emerging from this crisis we know that things will be different

and hope that many of the changes can be for the better.

One positive change we expect to prevail is the spirit of 'thinking local'. During

the crisis, people have discovered the benefits of shopping closer to home

and supporting local traders. This trend could crystallise to become a valuable

point of difference for businesses as they develop their post-Covid offer.

We know the economy has suffered and it will take time to recover. It is,

therefore, beholden on all of us to try to remain positive, continue to talk up

Newcastle's many strengths and maintain enthusiasm for investment and ongoing development in the city."

One organisation at the forefront of the region's drive to produce PPE

equipment is Sunderland University, who have adapted their Sustainable

Advanced Manufacturing (SAM) project, in response to the crisis. The ERDF

funded project was initially founded to support the implementation of

product and process development, and the introduction of technology to

the North East SME manufacturing sector. Project Manager, Ken Teears,

elaborates on how they've refocused their priorities, following the COVID-19

outbreak: "Essentially there are two strands to what we are doing. Firstly,

SAM technical staff and the team at our Institute for Automotive and

Manufacturing Advanced Practice (AMAP), have created and manufactured

the 'Hulse Sunderland Face Shield', an ICU approved face shield, developed

in consultation with clinicians at Newcastle's RVI Hospital. We've already

distributed hundreds of these to front line healthcare staff, and we are

finalising scalable solutions for a company to make potentially 25,000 per

week. Secondly, we're supporting manufacturers to react to COVID-19

through two new grant funds; one for the manufacture of PPE and the other

for capital investment to support manufacturing resilience and adaptability.

SAM can provide financial support in the form of grants, and our technical

team can advise on how technology and processes can be adapted to help

sustainable manufacturing. Visit samprojectuos.co.uk for more details."

This sort of enterprise has been mirrored across the region, and Northumbria

Health Care trust have recently established a new manufacturing and

distribution hub in Cramlington. The new facility is on lease from Wingrove

Motor Company and is producing 6,000 medical gowns per week, for use by

frontline healthcare staff. Sarah Rose, MD at Lucas Jacob Ltd and volunteer

Michael Rose, were instrumental in its creation, and the facility forms part of

a wider network of businesses and volunteers manufacturing up to 71,000

gowns per week for the NHS in the North East.