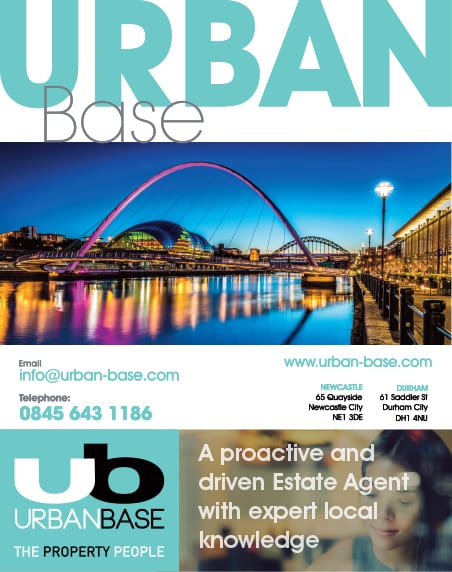 JAN DALE Urban BASE - Selling Style
Did you always envisage a career in the industry?

My passion for property has probably been since the very young age of two years old when I had my very own Wendy House (colourful little tent), my own open-plan little property transported to wherever I wanted to live, and behave myself for an hour or two for my devoted parents. In reality my career started life in the fashion industry, but I always had a natural passion for property, and after becoming a mum I decided it was now or never. The Halifax opened their doors, and the rest is now history… many doors opened, many people supported me, and here I am in the wonderful world of property – selling some of the most fashionable homes across the region.

What is your favourite aspect of the job?

Without doubt it is meeting new people. I really enjoy meeting people, new and existing clients, I refer to myself as the social butterfly of Urban BASE. The success of selling homes is a given, an expectation and a joy, but meeting and helping people with moving home is where I get so much joy. It is such an emotive time for all involved, and trust me, I share the emotions and the journey from beginning to end with many of our clients.

What has been your career defining moment?

There was never a defining moment but so many great moments! How long is this article, I could write a book. Again the wonderful people I have met along the way have helped define me and my approach to business, and life. Some have defined my career, and some have defined who I am to progress in my career. The early days at Bryant Homes (Taylor Woodrow / Wimpey) were wonderful times – the company had a genuine approach to staff comradery and work ethics which has resulted in many Bryant colleagues becoming friends for life, and many have progressed within the industry to be on the board of national house builders.

How do you measure success?

Happiness means success for me. There is nothing in life more rewarding than happiness, both at work and at home. Of course health and a great family at home, and a family ethos at work, caring for each other and the wider families of the team – it means a lot to be able to support the team at work, and throughout the last few years this has been so important.

What have been the biggest changes in the industry since you started?

There is a genuine shortage of skill in many areas impacting on both the build programme for new homes, and the timelines involved for legal conveyancing. There is a strong need for collaboration between local authorities and legal requirements to speed up the moving process. I hope the biggest changes may lie ahead, and the moving journey can become the joy we strive for. How has your skillset developed accordingly?

I have never stopped learning. Knowledge is a wonderful gift, and I am continuously seeking to understand different aspects of problem solving, and sharing knowledge to ensure continuous improvement in service levels. Communication is a key aspect, and I believe my communication skills have improved to understand how to manage information sharing and in a very timely manner.

Are you a risk taker by nature or more conservative?

I don't think I am a risk taker, I do take time to research fully the agenda ahead. Perhaps a qualified approach to risk – is this a risk taker? I am prepared to walk through open doors, meet new people, I am very much of the can-do approach, and sometimes this can stretch the diary management. Perhaps I am trying to justify risk here, in hindsight I walked away from a Director position of a national house builder to set up my own business – so I must be a risk taker. I have worked incredibly hard to focus on the business and client needs, and therefore that risk has actually defined my career, and me.

To what would you attribute your success?

My upbringing and being taught to always be respectful and try my best. Some people pass you by, and some you know are genuine friends, I have been gifted with amazing support throughout my career from within the wider industry; accountants, solicitors and industry experts in many disciplines. Jay at Hunter Johnstone Marketing always likes to tell me he has made me look good for over twenty years, and I owe it all to him… apparently.

What's your biggest weakness and how have you managed this?

I love this industry so much I genuinely struggle with time management for home versus work – I am truly addicted to every aspect of the property market – it's a wonderful industry and I am passionate about the sales teams within the industry being recognised with the same professionalism and importance as other disciplines. I am very fortunate the family work with me and understand my addiction could be worse – I have only recently found gin and golf (not together I hasten to add) and both can offer some distraction from work – others may say I have found a couple more weaknesses. How do you remain motivated? I have a very natural energy and motivation for the property industry and life in general. There is no challenge – it just happens, must be in the genes. Thanks mum and dad!

Would you prefer to be liked or respected?

Liked! I genuinely chose to do business with people I like. I often hear the phrase 'don't take it personally'.. I struggle with this phrase – I want to be liked, and I take feedback personally. We should believe we make a difference as individuals. Sometimes tough decisions need to be made and this can impact on likeability, however I have a large heart which can be surrounded by boulders when required to get me through a difficult day.

I'll retire when… That word again…you may as well ask me my age Mike! I should perhaps consider slowing down, and play golf, drink gin? Most people retire to enjoy life. I love life…at work, at home, life's good! No sign of this girl going anywhere just yet, I've got some fabulous homes to sell!