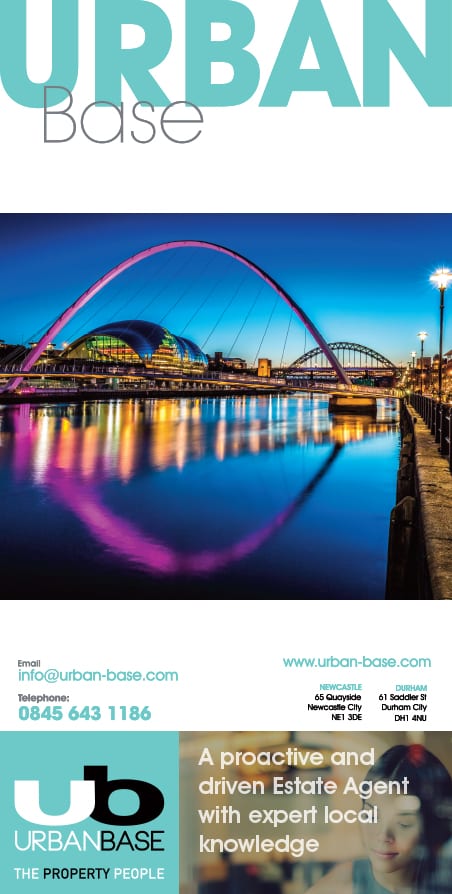 One of the region's leading independent estate agents, Sanderson Young, is growing strongly as its position within the North East property market intensifies.
The agent is enjoying one of its most successful years to date as it continues to go from strength to strength, undergoing some key changes including a relocation of its Alnwick office within the town and a bigger team of property experts. "2019 has been busier than ever," says Duncan Young, chairman of Sanderson Young. "One of our first major movements of the year was to relocate our Alnwick office to premises that boasts a triple fronted shop, giving us the best window displays in Alnwick to market properties. "We then looked at bolstering our team to help us not only meet growing client demand but also strengthen our expertise and experience company wide to raise our profile even further.

"The new build market has been especially buoyant and, because of our long-standing reputation of outstanding local knowledge and understanding of the property sector, we've been able to capitalise on it, establishing new partnerships with both large and more specialist developers which has paid dividends."

Region wide, sales for Sanderson Young are up 161% and instructions for the agent have increased by 274%. All three main branches – Alnwick, Gosforth and Ponteland – are achieving higher turnover than they were at the same time last year.

The coastal community at Smith's Dock in North Shields is one of the large-scale new build developments where Sanderson Young was instructed to sell homes and apartments, with only 17 properties left. The agent has also recently sold all homes at the luxurious high-end development, Foxton Glade, in the village of Ellsbury, Northumberland.

It's also offering, on behalf of Lindisfarne Homes, eight contemporary detached properties in the lovely village of Warkworth, where a view home has just been created. Only four properties remain at this location.

The Ponteland branch team is busy with Belsay Bridge, a stunning development of three and four bedroomed homes in Belsay Village, from County Life, as well as Wylam Grange in Wylam, Hemingway Court in Ponteland and Tulip Mews in Heddon on the Wall. So, what's the secret to Sanderson Young's success?

"We've remained true to our strengths," explains Duncan. "Focusing on them to not only attract new clients but also to develop our relationships with existing clients, which has opened the door to a higher volume and wider scope of work.

"We are renowned for our local expertise and knowledge with that personal touch. Unlike many other traditional and online agents, we highly value face to face time with clients, spending the time to get to know them to fully understand what they need."

Sanderson Young recently appointed Greg McCarthy to a senior management role as a regional valuer. Greg is a prominent figure in the North East estate agency sector who has established himself as a property expert on residential valuations, particularly within the Gosforth, Jesmond and Newcastle area, and complements the agent's existing management team.

Duncan said: "Our residential agency services are in high demand in the current market and the appointment of Greg is a key strategic move for us. He will become a vital member of the team in the long-term future of the agency and I am very pleased to have him on board."

Greg will work closely with the rest of the team, especially Amy Brice and Penny Wright. Penny, who's been at Sanderson Young since 2004, is a valuation manager at the agency and until recently has worked across all three offices. With Greg joining, Penny will now be based in the Ponteland branch, with a larger focus on sales in and around Ponteland including the rural villages, Morpeth and Tyne Valley.

Duncan says: "The Ponteland office is doing exceptionally well, with exciting new developments on the horizon. Penny is a core member of the team, who is very highly regarded in the industry and extremely successful at what she does.

"She manages our residential property valuations and sales, ensuring every client gets that personal service that I strongly believe sets us aside from the rest. "We want to get to know the client, develop a good relationship with them so that we can do the best job for them, and achieve the best results."

As a Royal Institution of Chartered Surveyors (RICS) registered valuer and surveyor, Amy Brice looks after Sanderson Young's professional services and residential valuations in a far-reaching role. She works closely with developers, providing land and development appraisals as well as managing family estate affairs, dealing with tax valuations and wills and probate. She also handles property investment and high-end residential sales.

Duncan says: "Amy provides yet another dimension to the team with her RICS qualification which means we can manage an investor's property interest right from the very start of the process and see it through to the very end, securing the best price within the shortest time frame.

"She's a very focused and talented agent with a broad and extensive knowledge of the housing market in Newcastle and the surrounding areas, with specific expertise in Darras Hall, Jesmond and the city centre."

Amy, Greg and Penny, together with the wider estate agency team, make a very capable team, bringing together a wealth of skills and experience in a buoyant but very competitive North East property market.

"We have the knowledge and experience of a large corporate agent but the approachability and flexibility nature of an independent professional smaller business," adds Duncan. "A lot of our work comes from repeat business and referrals. For this to happen, you must provide a great service to clients from the start of a property query to the end, which is what we do.

"There's no resting on our laurels here, we want to push on and continue to grow our reputation as the leading estate agent in the region, who puts the needs of its clients first, every time."