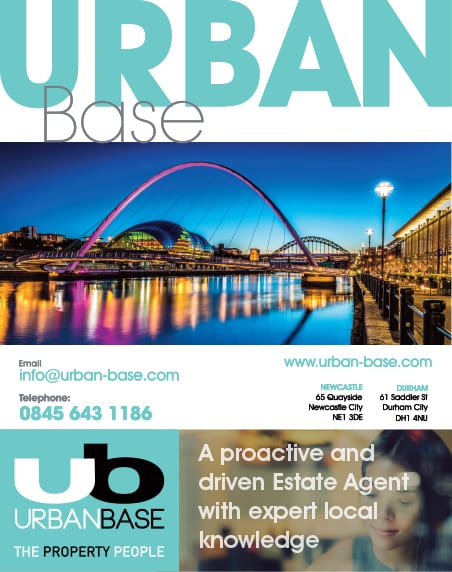 Renowned North East property developer and investment house, Adderstone, recently unveiled its latest residential showstopper - Hanover Point.
Situated in the heart of Newcastle, this luxurious apartment project offers an unparalleled urban living experience, showcasing stunning views of the iconic Quayside.

Located in Clavering Place, adjacent to the newly revitalised Stephenson Quarter, Hanover Point stands as a testament to Adderstone's commitment to upscale living in the North East.

The official launch event was graced by Sir John Hall, the nationally recognised developer and former chairman of Newcastle United FC.

Hanover Point comprises a collection of 10 meticulously crafted apartments, spread across eight levels, all within a secure, landscaped courtyard. Each of these contemporary-styled apartments boasts panoramic vistas of the majestic Tyne River, providing residents with an exceptional blend of urban sophistication and natural beauty.

Notably, the crown jewel of Hanover Point, a lavish penthouse valued at £1 million, has already been claimed by an astute buyer. However, opportunities exist for those seeking to make this extraordinary location their home, with seven apartments still available for purchase, ranging from £525,000 to £975,000.

Adderstone has consistently demonstrated its prowess in delivering high-end residential properties. Notably, they previously developed the North East's most valuable apartment, the Moorlands Penthouse, situated in the Gosforth neighbourhood of Newcastle, which commanded a sale price of £1.35 million.

An independent report by Pegasus confirmed that more than 1% of people in Newcastle's urban core now live in homes developed by Adderstone. The business has also created in excess of £1.1bn in economic output and thousands of jobs across the North East.

Ian Baggett, the visionary founder and CEO of Adderstone Group, expressed his enthusiasm for the grand opening event, stating: "I was delighted when Sir John Hall agreed to officially open and launch Hanover Point. His legacy, particularly in the North East, has been truly inspiring.

"Sir John showed me and an entire generation of entrepreneurs that it was possible to stay and build great businesses in the North East. He inspired me to become a property developer."

Sir John Hall, guest of honour at the launch, took the opportunity to reflect on his illustrious career. From his pioneering role in developing the Metrocentre to his tenure as chairman of Newcastle United FC and his stewardship of Wynyard Hall, Sir John emphasised the enduring importance of family values.

In his address, Sir John remarked: "Ian and I go back a long way and it's great to see him and his colleagues continuing to deliver these ambitious projects. More than ever, Newcastle and the North East needs brave developers who make markets. With all the talk of affordable homes it is important not to forget that the North East needs high quality homes if it is to retain and attract talent and ambition."

Hanover Point stands as a testament to Adderstone's commitment to creating exceptional living spaces, and also serves as a testament to the enduring spirit of development and innovation in the North East.

This project exemplifies the region's readiness to welcome luxury living while preserving its rich heritage.

Leading North East estate agency Urban BASE has been appointed to promote Hanover Point. Jan Dale, director of Urban BASE, said: "Due to the exemplary nature of this scheme, the unique high level river side location, close to main transport hubs, and the overall high-quality design, interest from the local luxury-buyer market, investors and business executives is strong. These apartments take city living to a whole new level of luxury."

For more information contact Urban BASE info@urban-base.com or visit Adderstone Group www.adderstonegroup.com.