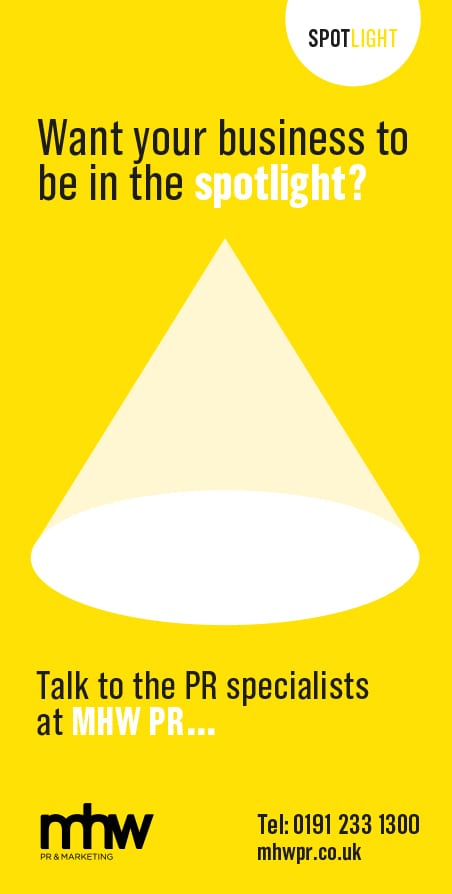 Tell me about your background in business

I have always had an interest in business with my father, Daniel O'Mahoney, being a strong influence on me when growing up. I flirted with the idea of studying journalism and Law (not sure if I had the attention to detail) but I decided to keep the family tradition going and so studied PR at what was then Leeds Metropolitan University. I always had it in the back on my mind that I would end up at Bradley O'Mahoney Public Relations.

In the early days I had to work harder than most to be recognised in my own right – overcoming the hurdle that is often associated with being the son or daughter of the boss – and it is fair to say that things were not always easy for me.

I had to fight to prove I belonged and there was certainly no preferential treatment, quite the opposite, and I believe this made me the individual I am today, both in and outside of business. I grasp every opportunity that comes my way to continually develop my skills and I am never complacent in my learning as I believe we can always know more. In recent times, I have become increasingly focused on my responsibility to help drive the business forward, while ensuring that our clients are front and centre of everything we do.

Without them we are nothing! I have now been at Bradley O'Mahoney for ten years and I am continually learning and developing.

How was Bradley O'Mahoney formed?

The company's origins go back to 1991 – a time well before social media and digital marketing were thought of – and the very first clients were IBM, Hay & Kilner and Mono Containers. Daniel O'Mahoney and Tony Bradley merged their respective firms in 1993 and the rest, as they say, is history. The firm, based in South Tyneside, has represented a vast range of clients in the private and public sectors during that time and there have been many fantastic highlights, not least, Tony Bradley being appointed national President of the Chartered Institute of Public Relations. This was not only a huge honour for the business, but Tony was the first practitioner from the North East to attain such high office in our industry.

In your own words, what is it that Bradley O'Mahoney Public Relations does?

I think it is more relevant to ask what our purpose is, rather than what it is we do. Quite simply, we are here to make our clients famous!

After 30 years operating in the sector, we are more than familiar with the many and varied ways in which PR can have impact, from assisting companies when they are making redundancies (mitigating bad news) through to developing complex stakeholder engagement programmes, but the fact remains that the single most important reason we exist – and why the vast majority of clients call upon our services – is to give them a greater share of voice in the market… to make them famous! We create fame for our clients by delivering authentic, enduring brands built on storytelling.

What is your proudest achievement with the company?

My proudest moment is my own personal journey. I felt quite out of my depth when I first joined the company 10 years ago but always had a clear focus to never give in. Working within an admin role for a year at Bradley O'Mahoney gave me an insight into the business and I was able to watch and learn how the managers ran their teams. I sat back and soaked up the information. From day one I worked with Daniel partly because I never really felt part of the old team, but this benefited us in the long term. When the business hit the recession back in 2012 it was either sink or swim for me. I suddenly found myself in a position of being thrust to the forefront of the business and had to lead on accounts. I chose to swim and never looked back.

Having free reign of the client accounts allowed my personality to come through and I found people wanting to work with me. I enjoyed the creativity and freedom of being in charge and my confidence grew.

I have a burning desire to be known for my work and put my heart and soul into the business. It is something that I have inherited and feel very proud of. I also always want to make Daniel feel proud of me and to carry on his legacy alongside my sister, Jane.

I also get restless. I need to be constantly stimulated and enjoy meeting lots of interesting people and this has led to exciting opportunities such as becoming a co-opted member of the North East board of the Chartered Institute of Marketing, a board member of Young Enterprise North East and a member of the Future Leaders group of the CBI.

Is there a particular mistake you have made while in business? And how did you overcome/learn from it?

My mistake has been trusting the wrong people at times. I always like to see the best in everyone I come across, but I have now learned to be more guarded and take my time to trust people. The vast majority of people in business are well meaning and genuine. However, there will always be the charmers, egotists and those with alternative agendas. I am still young and learning all the time and not just about PR and business but judging people.

How has the firm grown and what do you attribute this to?

Our growth comes in two ways – organic growth and networks. Organic growth within our client base, as a result of the strength of the relationships we forge with them and the confidence they have in our advice and ability to deliver. This takes time to cultivate but is most satisfying. As the saying goes, our networks are our net worth. We are members of a number of very interesting networks, most are based here in the region, with one in Boston, US. These networks allow us to rub shoulders with inspiring people from all corners of the business world.

However, we do not want to be observers and will only join a network if we feel we can add value and fully contribute.

Do you live by/do business by a certain motto?

We all have to deal with disappointments, frustrations and knocks. I have faced many and despite the outcomes I will always bounce back. I take positive energy from failures and setbacks and that enables me to come back stronger. Working in business you have to be resilient and develop a thick skin.