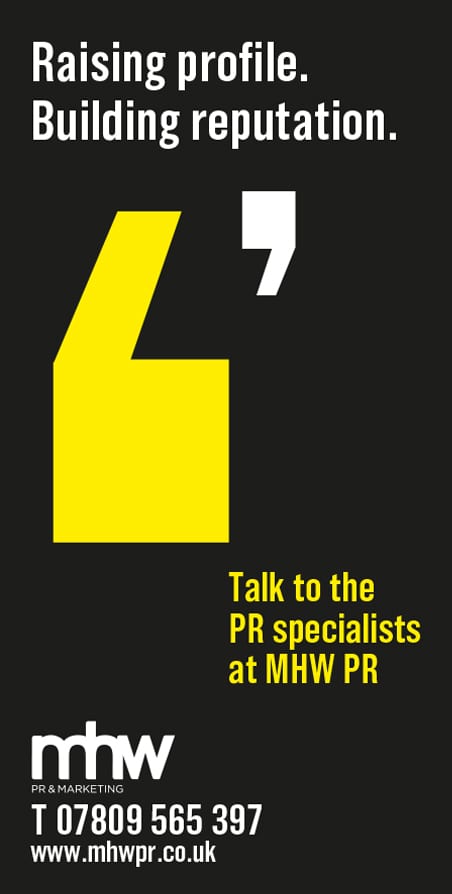 From their HQ in Darlington, we meet the team at interior fitout firm Kasher Services Ltd, and discover a thriving business, which has successfully adapted to these extraordinary times.
February 2020. All was well in Kasher Services. With contracts in place to supply interior fitouts for some of the UK's largest commercial developers, business was booming. Then an alien-looking virus was unleashed upon the world and the landscape changed overnight. For a company whose MO is creating high-end office spaces, the seismic effects of this pandemic can't be underestimated. However, optimism is embedded within the DNA of the business, as co-founder and MD Ayesha Davis explains: "Like every other business, the pandemic has presented us with serious challenges, but luckily our core operations were able to continue.

We've maintained solid working relationships with our commercial partners on existing operations, but the particular demands of the pandemic have definitely led us in some unexpected new directions." One of their new business streams was securing a contract with HC-One, to install external visitor pods at 15 care homes across their UK estate, enabling vulnerable residents to receive vital, COVID-safe visits from relatives. Kasher's Commercial Director, Helen Russell describes their involvement: "We pride ourselves in our ability to react to market demand, and this project was a great example of that.

The pandemic has put enormous pressure on the care sector, and initial discussions with HC-One quickly revealed the urgency of the situation, in terms of creating safe visitation space. In response, we fabricated and installed 15 visitor pods in less than four weeks." Chief Financial Officer of HC-One, David Smith added: "It's very important to our residents and families that we have safe meeting spaces, and Kasher responded to our need to create these spaces in a timely, professional manner, delivering high quality assets which we are delighted with." The success of the project has been life-changing for residents, and it has also enhanced Kasher's already excellent reputation for producing quality work against the tightest of deadlines. Formed in January 2016, by co-directors, Ritchie and Ayesha Davis, Kasher have quickly established themselves as a credible force within the industry. Recently, they have worked on a series of projects in partnership with a one of the UK's largest interiors companies, a joint enterprise which has produced an impressive portfolio. This includes stunning renovations of prestigious commercial sites like Berkeley Square and Bishopsgate in London, and OneTwoFive Deansgate in Manchester. Offering a comprehensive service, Kasher specialise in installing everything from air-conditioning, IT comms, fire alarms and electrics to decoration and bespoke joinery. Kasher's success has been augmented by the formation of sister company, Kasher Joinery Ltd in February 2019, whose founding allowed them to assume more control over their operations. Ritchie elaborates: "Establishing Kasher Joinery has really helped us to grow our business. Having an in-house team of highly skilled craftsmen allows us to deliver exceptional bespoke joinery to our clients, and it allows us the flexibility to pivot according to demand." Based in London, Kasher Joinery's workshop incorporates both traditional carpentry and cuttingedge CNC technology, catering for everything from one-off domestic projects to large-scale commercial schemes. Recent projects have included renovation of a professional football club's academy facilities, and bespoke furniture commissions from a range of high-profile clients. One avenue the Kasher group is currently exploring is the trend towards homeworking, and the need to create viable office space in domestic settings.

Helen expands: "The shift towards increased remote working is likely to be a long-term legacy of the pandemic, so with that in mind, we are currently in discussions with a major engineering company regarding the installation of domestic office solutions for their staff, be that developing existing space within homes, or installing external office pods." 'Adapt or die' is a well-worn business slogan, but the principle has perhaps never been more relevant than in the COVID world. Cliched it may be, but the Kasher group has clearly understood the importance of adapting to survive, and let's hope the wider economy is able to do likewise.