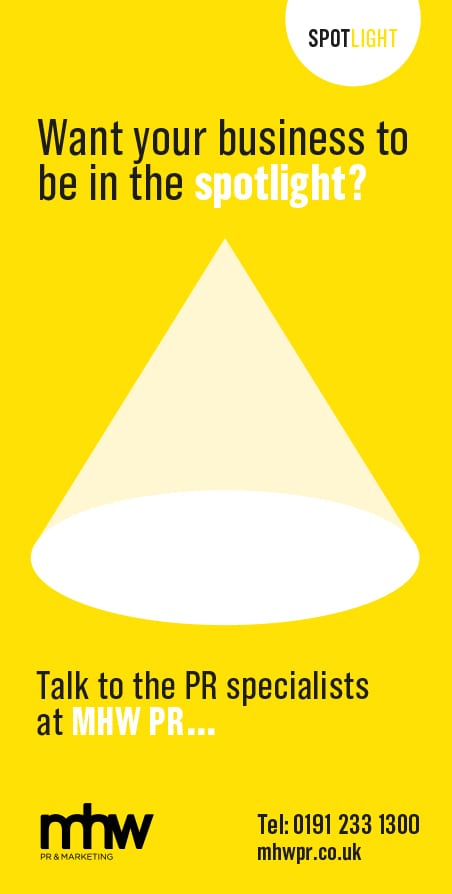 Tell us a bit about your background? Having spent the latter years of my schooling more focused on sport than learning I was given what turned out to be very wise advice to go and get a job I went straight into FMCG, initially with Alcan, selling household foil into all the major multiples, this was at a time when you negotiated individual deals with each store, rather than getting a single listing at head office as it is now. A key opportunity arose when I was offered the chance to join The Design Group in Gosforth, to establish a new division selling computer graphics, which was a very new field. The product was basically the design and creation of very primitive highly pixelated 35mm slides for presentations. It seems hard to believe that at this time they were considered to be right at the cutting edge! By chance, as I joined Design Group they let some office space to an emerging advertising agency called Robson Brown, which would go on to be the largest business of its kind in the region. After four years at Design Group, I accepted an offer to join Robson Brown and help to establish their new design division.

During this time the company employed a talented designer, Nick Pugh who had moved north from a very successful career in London and was later to be my business partner. Having attained the position of Managing Director of the design side of the business, and a seat on the board at group level, I felt restless and ready for a change. A number of clandestine meetings with Nick later, and the decision was made to set up our own company,
The Roundhouse. What was your first business premises? Our first office was Plummer Tower, which is one of the original towers of Newcastle's town walls, and one of only three still intact. We were there for more than six great years, after which we moved an equally historic and perhaps more conspicuous premises, The Market Keeper's House. This is the old building with the clock tower in the middle of Times Square, at the Centre for Life. After ten years there we had outgrown our premises again, and we made the decision to move outside of the city centre to Fenham Hall Studios, where we've been ever since. Our office space is still steeped in Newcastle history, as Fenham Hall is a beautiful old house built for one of the city's Lord Mayors in the Eighteenth Century.
I think our USP is our mix of technical knowledge and our creative excellence.
Ian Humpish, The Roundhouse
How has the company grown? In the first six years we'd grown to the level of employing eight or nine people, which prompted our move from Plummer Tower to the Market Keeper's House, and over the next decade we grew to 19, after which we moved again to where we are now. Today there are 29 of us and we plan to keep growing. Looking back to when we set up the business there was an interesting business lesson in that you invariably reap what you sow. Because of how we interacted with clients and suppliers alike we had built a level of credibility and trust which was hugely beneficial when starting out on our own. From the offset we were treated as an established business rather than a start-up by people we had dealt with, the key benefit of this being trading terms that went a long way towards alleviating any cash-flow issue which, as any budding entrepreneur will tell you, is one of the biggest threats to success.
Did the recession have a big impact on your business?

I could say we've been fortunate enough to come through the various financial vagaries of the last twenty years, but I also believe that this good fortune was largely down to the solid foundations and good working practices that were established at the outset. The last recession did hit our rate of growth but we were largely protected due to the nature and scale of our clients. While we work with businesses in a wide range of sectors we have created a specialism for ourselves in Higher Education (HE).jpg. How has the market changed since you started the business? This might sound a little grand, but if you look at the 22 years we have been in business I don't think there has ever been such a radical change in how the world communicates or in technology, at any other time. In 1995 the web was new technology, since then its evolution, along with that of mobile phones and social media has been absolutely astonishing. The growth of digital has had a transformative effect on our industry, to the point which we have an entire division of the company dedicated to it. We have built on our strong position in the university sector, specifically offering complex digital solutions and building websites. This has led to a key collaboration with a specialist software company, TERMINALFOUR, a Dublin based company who offer a specific CMS product for the HE sector. We have been TERMINALFOUR's preferred design partner on a number of projects, and have spoken at their conferences, and this in turn led to a recent and fantastic opportunity overseas, with the University of Wollongong in Australia.

A number of our team members have recently flown out to New South Wales to kick-start what is a substantial and prestigious design and build project, of which they're hugely proud.
What would you say your unique selling point is? I think our USP is our mix of technical knowledge and our creative excellence. We feel we're very good at both but when combined we can provide something above and beyond what our competitors offer. We're on-brand in terms of our clients' messages and values, while at the same time we utilise the latest digital technologies to facilitate the online side of their operations and give them the data they need to maintain a competitive advantage. We have a content strategy expertise which brings this together, making sure the right message is displayed to the right person, in the right place, at the right time.
How does your motivation now compare with that when you started the firm?

This has definitely changed over time, it's in no way less but it is different. When you run a small business, you can't stop pedalling. Nick loves design and still has a huge involvement in the creative output of the company, so he always has plenty to keep him motivated. Something that I find very motivating and a big positive is seeing the talent of the young people that work for us and them doing well and advancing in their careers.
Has mentoring been part of your entrepreneurial journey? I've never had a formal mentor but I have always been ready to learn from people I work with, when something is a good idea I don't need to be told twice. In terms of mentoring others, I have really enjoyed helping with the development of my fellow directors, whether they consider it the passing on of great wisdom or interference is perhaps a question for them.
Care to tell us about any future? Quality and growth. We've always strived for the former and the latter seems to follow naturally and will hopefully continue.
Ian Humpish is a member of the Entrepreneurs' Forum, a unique group of like-minded people who come together through peer-to-peer mentoring and a series of inspirational events to share best practice, create valuable connections and grow their business. For more information, visit www.entrepreneursforum.net