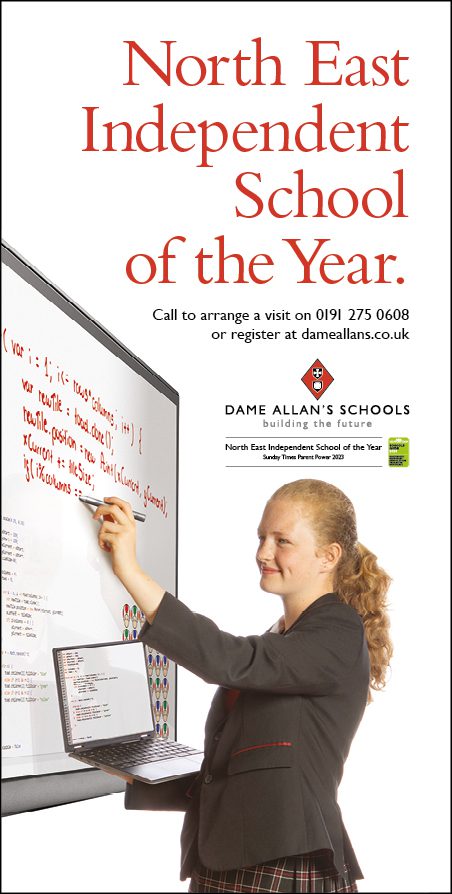 Studio West, a studio school in West Denton operated by Northern Leaders Trust (NLT), has recently benefited from a significant investment to improve the experience of its students.
Over the summer months, NLT undertook a full refurbishment of the school which also included new furniture and new school displays.

Along with a wealth of academic opportunities, Studio West learners are also set to benefit from a wide range of extra-curricular activities, designed to help them grow into socially responsible and caring citizens. To this end, a further £200k has been allocated to provide a range of life enhancing experiences – to ignite a fire within students and inspire aspiration.

This will see the continuation of a programme of regular visits by well-known school motivational speakers such as Wilfred Webster and Cameron Parker; Super Learning Days, which take place off-site for maths and science, removing Year 10 and 11 students from the classroom setting to make for a more memorable experience; the introduction of outdoor team building for all year groups, which includes visits to places of historical or social interest such as Beamish Museum as well as high ropes team building for every student within Years 7 to 9, to create strong bonds and conquer fears.

Martyn Gordon, the school's recently appointed Associate Executive Principal, said: "Every single student is given opportunities to develop both academically and socially, in a safe, inclusive and positive environment. We have an unshakable belief that every child can achieve and I am extremely honoured to lead a school where everyone is constantly working together to allow our students to fulfil their potential.

"Staff are highly skilled and passionate about providing high-quality education and to ensure our students have the best possible chances of success, both while at school and in the future."

While students can explore either academic or vocational pathways, the arts also play a central role, enabling students to pursue creative pathways and Studio West recently celebrated the news that three students had passed their graded piano exams – funded by the Trust.

A £1400 personal allowance for all students

In fact, NLT's ongoing investment in young people at Studio West means that every student is also entitled to a £1400 personal allowance over the course of the seven years they attend the school.

The allowance is made available at a rate of £200 per annum to enable students to broaden their experience outside of the curriculum. For example, this may include learning a second musical instrument, additional sports lessons, trips, foreign exchange visits and all kinds of exciting, new experiences.

A new Studio Stars programme has just been launched too, designed as a central motivating force within the school. Students collect points and once they have reached a certain number, they are rewarded with a certificate, which enables them to go to a principals' dinner. Points are awarded for exceptional work or exceptional endeavour within the Studio West community.

Mr Gordon added: "Our strapline is 'learning that connects' and Studio West is a school where learning really does connect to the workplace, opening up a world of exciting possibilities for our young people.

"We are very excited about what the future holds at Studio West, so please feel free to visit us at any time and see our wonderful school for yourself."

For all enquiries, please call our main reception between 8.30 am – 4.00 pm on 0191 481 3710

Contact us through any of our social networks, or via email: studiowest.admin@northernleaderstrust.org

Studio West, West Denton Way, Newcastle upon Tyne NE5 2SZ