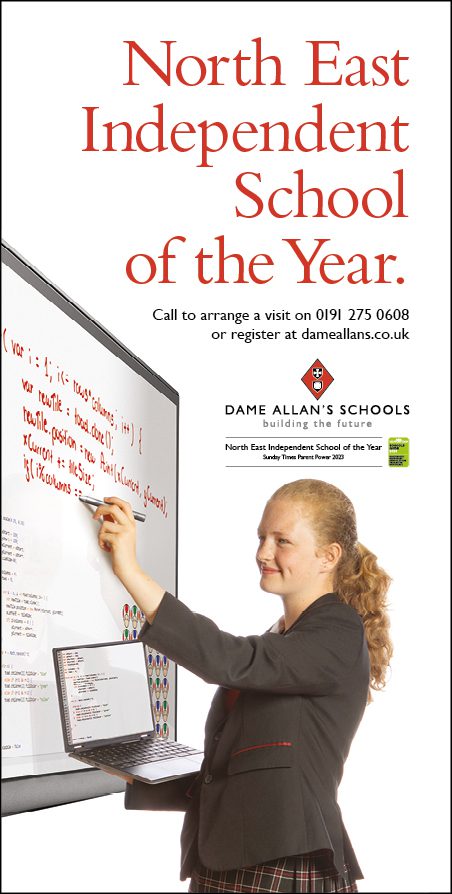 A unique education system that prepares today's children for the world of the 2060s and '70s has won the highest praise from official inspectors.
The Independent Schools Inspectorate awarded Barnard Castle School the top rating of 'excellent' for both 'Academic Achievement and 'Personal Development'.

The achievement follows the introduction of 'A Barney Education', an innovative approach to developing a dynamic curriculum for its 730 pupils, aged four to 18.

'Barney', as the School is affectionately known, provides an inspirational, compassionate and unpretentious environment in which young people develop character, becoming confident, resilient, intellectually curious, tolerant and driven, with an undercurrent of humility, leaving them ideally placed to thrive in a rapidly changing world.

A six-strong team of inspectors spent three days at the Senior and Prep schools, exploring every facet of learning.

They scrutinised compliance in key areas including the quality of education, the spiritual, moral, social and cultural development of children, welfare, health and safety, the suitability of staff, the premises and the standards of leadership and management.

Inspectors examined the curriculum, observed 80 lessons and sampled work, from Reception class to Sixth Form. They analysed parent, pupil and staff surveys, spoke with pupils, staff and governors, experienced countless extra-curricular activities, House meetings and Chapel and also visited boarding houses and the Academic Support department. In each area the school was awarded 'excellent'.

Headmaster Tony Jackson said: "This was a rigorous and comprehensive inspection and we are unbelievably proud of the outcome, which is validation of everything we endeavour to do.

"Our children are preparing for a rapidly changing world and are having to contend with adversity on a local and global level. Throw into this mix the volatile and ubiquitous nature of social media and technology and it is clear that we need to evolve constantly to meet their learning needs as we prepare them for work in the 2060s and 2070s."

Inspectors highlighted the excellent quality of academic learning and pupil achievement, praising children's communications skills, their engagement with learning, their self-confidence and understanding of how to improve their performances further.

They also noted pupils' progress and skills across the curriculum including reading, writing and numeracy. They commented on how children expressed themselves with increasing sophistication and their expertise in public speaking, their ability to apply their knowledge and think logically.

Inspectors picked up on the School's sense of spirituality and community, the inspiring surroundings, pupils' morals and positive attitude towards each other, their excellent, courteous and well-mannered behaviour, their awareness of social issues and diversity, their contribution as global citizens, including charity work, the high degree of student input into school life and their understanding of how to stay safe, both physically and mentally.

The "comprehensive and experienced" pastoral care team was singled out for praise, being described as a "huge strength of the school, embodying the values and ethos they wish to promote".

The report also stated: "The excellent personal development of all pupils is a direct result of the values and ethos of the school. This is driven by the senior leadership team through the innovative use of assembly and tutorial time, endorsed by the governing body, thus fulfilling the aim to develop young adults with character."

Mr Jackson added: "It is a pleasure to work alongside so many talented professionals and be part of such a special, unique community, and we are excited about what the future holds for our School."

If you are interested in hearing more about what makes a Barney education so special, we are hosting a Whole School Open Day on Saturday 7th October 2023, including a Prep School Open Week from Monday 2nd October 2023 until 7th October 2023. To register your interest, please get in touch with a member of our Admissions Team on 01833 696030 or admissions@barneyschool.org.uk

www.barnardcastleschool.org.uk