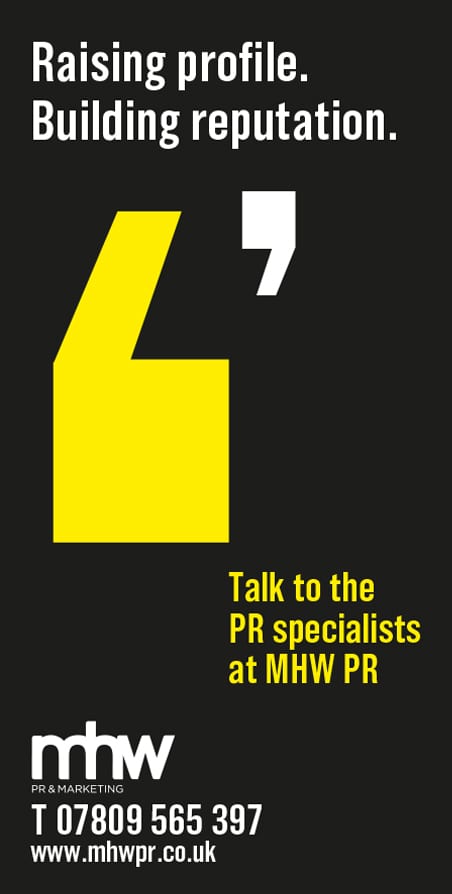 Since the outbreak of the Coronavirus pandemic a lot of businesses have been forced to change the way they operate! They're having to move with the times, whether they like it or not.
But, one thing hasn't changed. You still need to publicise who you are, what you do and how people should contact you. That's where Morpeth based Pro-Ad comes in…although they've also been forced to adapt.

They're a long-established family company who've been providing a huge range of promotional products and branded clothing for approaching 40 years.

And when we say huge, we mean huge. Their catalogue has over 100,000 products. Wow.

Put it this way, if you want a personalised mug, pen, umbrella etc then Pro-Ad will sort everything for you.

"We have a reputation for finding solutions," said Commercial Director, Loren Nardini. "We have a worldwide list of contacts which means we really can source absolutely anything. The vast majority of the products and clothing which we provide are bespoke.

One of their latest and hugely successful ranges is called Work Safe.

"We were asked by a couple of our clients to provide them with PPE equipment like hand sanitisers, facemasks and dispensers. We quickly sourced what was needed and…well…word has spread and our Work Safe range is now one of our most popular sales areas. We helped the local NHS and regional councils find PPE supplies and ensured that, if needed, they were branded too. It's helped us ensure that, despite all of the challenges brought by the Coronavirus pandemic, our turnover this year will be similar to that of last year. We've also introduced new marketing techniques and become much more pro-active in the way

we do business."

One of Pro-Ad's biggest sales areas is providing equipment and products for exhibitions. They source and supply exhibition branding, roller banners, table cloths and a whole array of giveaways. Covid-19 put paid to all of that. A huge chunk of Pro-Ad's business ground to a halt overnight. Exhibitions are due to get the go-ahead sometime in October, but you still won't be able to hand out pens, badges, balloons, cups etc. They're blacklisted.

Loren says the last few months have prompted the biggest changes his company has ever seen.

"We've been forced to take on board the new ways that people work. Thousands and thousands of people are now working from home but the majority are still part of a team. When you work alone at home, it can be very easy to feel that you are missing out on camaraderie. On top of our normal range what we are now providing is packs which companies send to their employees to let them know that they're not forgotten and are still a valuable part of the company. It increases employee engagement.

We're also finding that companies like to send these packs to clients either before or after on-line conferences. It means the client can feel part of the corporate image. If the client receives a pack before an online meeting, the company can refer to it. If they receive it after the meeting, it reinforces what the meeting was about. It's a simple way

of making the client feel good about the company they're dealing with and gets the sales point across. The British Promotional Merchandise Association says that 83% of people could name a brand or company featured on a promotional item they had received and 82% reported they had purchased products or services from a company that had given them a promotional gift."

The pack theme has continued with Pro-Ad developing branded packs, employee packs, hotel packs and travel packs. The packs can either focus on PPE products like hand sanitizer, gloves and masks, or perhaps they are just a fun pack with cakes, chocolates, wine and games. The options are endless but they're all aimed at making either the employee feel

part of the team or reinforcing a message with a client.

Pro-Ad becomes part of your company's team. They work on your behalf. That's what they do for businesses like SSE, Jury's Inn, Greggs, Northumberland County Council and Akzo Nobel. They also provide merchandise for Kiss FM's Ibiza beach parties and have won multiple awards for promotional merchandise created for clients in the last couple of years.

Do you want to create a lasting impression or perhaps something to jog someone's memory? For example, when you finish a Zoom meeting, why not send a follow-up parcel with a small gift or reminder note? Oh and don't forget that in these Covid times your employees will not be able to share cups, mugs, pens and bottles at work. They'll need their own kit. Pro-Ad can help by adding individual names to a whole host of products.

In other words, if you need to promote your company and protect your employees, Pro-Ad can sort everything for you. Don't sit back and worry about the future after Covid-19.

Be proactive and let Pro-Ad help you move with the times.